Parts of the U.S. Government are closed. However, because the information this site provides is necessary to protect life and property, it will be updated and maintained during the Federal Government shutdown. For critical weather information, please visit
www.weather.gov
. To learn more, see
www.commerce.gov
.
Keep Your Holidays Happy and Your Impact Low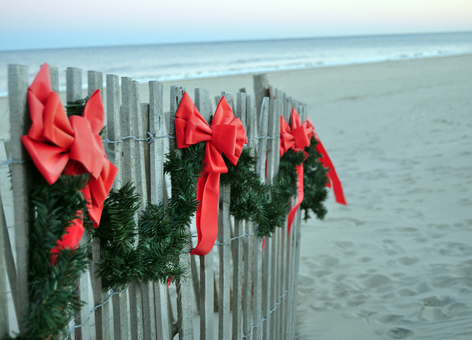 DECEMBER 18, 2014 -- Across the United States, the winter holiday season is upon us and many people are gathering with family and friends to celebrate. But as you go about trimming trees, lighting candles, and nipping eggnog, keep in mind a few tips for lowering your impact on the ocean. After all, a clean and healthy environment sounds like a great gift to give others—along with world peace.
Host a no- or low-waste holiday soiree. Set out reusable dishes for guests or use recyclable items and have a clearly labeled recycling bin at the ready. Compost napkins, half-eaten gingerbread people, and that fruitcake leftover from last year. Get more tips from the Marine Debris Blog. As they point out, "According to the EPA, the volume of household waste in the United States generally increases 25 percent between Thanksgiving and New Year's Day—about 1 million extra tons."
Do your holiday shopping with reusable bags. Plastic shopping bags are among the top 10 items collected each year at the International Coastal Cleanup.
Consider giving gifts that won't end up on the shelf or in the trash. It takes a lot of oil (which can spill) to produce and transport the many items for sale starting Black Friday. What about giving the people you care about gifts they can experience, such as tickets to a show or gift certificate to their favorite restaurant? Or something they can use with little or no accompanying waste, such as homemade hand salve or your famous family latke recipe, along with a tasty batch to go with it?
Keep your gifts under reusable wraps. Skip the plastic ribbons and bows and wrap your gifts in stylish fabric gift bags (which the recipient can then re-gift). At the very least, save what wrappings you can and use them again next time.
Avoid giving gifts that contain tiny plastic microbeads. It may be tempting to give your sister-in-law a bottle of Cinnamon Stick Glitterburst Exfoliating Body Scrub, but check the label first. Personal care items, such as cleansers and body wash, often contain "microscrubbers" made of plastic that go down the drain, most times making it past waste treatment and into rivers, lakes, and the ocean. Look for "polyethylene" or "polypropylene" in the ingredient list.
If you have a blast, clean it up. If you use fireworks to ring in the New Year, please do so responsibly. Fireworks can shatter into little plastic bits, which can be swept into storm drains and end up in lakes, rivers, and the ocean. Volunteer for a beach cleanup on January 1, track what you pick up, and make sure marine debris doesn't pollute 2015.
Give public transportation the green light. Holly and mistletoe shouldn't be the only green part of this season. When possible and safe, opt for lower-impact transportation options: walking, biking, or public transportation. NOAA responded to 138 oil and chemical spills in the past year. Less oil used means less oil transported and potentially spilled.
The U.S. Environmental Protection Agency has more great suggestions for greening your holiday season and all winter long. Do you have any tips? How are you keeping your holiday season happy and light on the planet? Photo used via Creative Commons: Susan Smith, Attribution-NonCommercial-NoDerivs 2.0 Generic License