Keeping Tabs on Mussels in Prince William Sound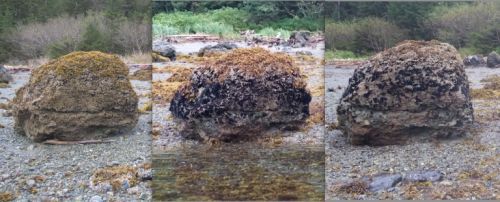 JUNE 5, 2015--For over 26 years OR&R scientists have been keeping tabs on the recovery and variability of marine life on rocky shores of Prince William Sound, Alaska, once impacted by the Exxon Valdez oil spill.
On May 24, 2015, Dr. Rob Campbell, oceanographer at the Prince William Sound Science Center, visited one of the nine long-term shoreline monitoring sites. He sent the photographs he took to OR&R's Alan Mearns. These photos extend the annual time series collection to over a quarter of a century.
Dr. Campbell's photos reveal that, at least at this site, that mussels are now quickly declining after reaching peak abundance in summer, 2014. This represents the fourth "rise and fall" of mussel populations at this site since photos began here in 1991. On only a few occasions the mussels came close to covering nearly one hundred percent of the boulders. Most years they are, for all practical purposes absent. When they occur, their rare and seemingly unpredictable abundance provides a bounty of food for sea stars, sea otters, and some nearshore birds. The annual photos provide strong evidence of the long-term episodes of "boom" and "bust" of life on rocky shorelines and challenge us to think about what is normal.

The variation from year to year is shown in this graph showing percentage of mussel cover over time. (NOAA)
Dr. Campbell is among several local volunteers who have been tracking trends at the old study sites and send photos to Dr. Mearns for compilation and analysis. In the coming weeks with luck and good tides, we should be able to report trends from other sites, including Mearns Rock, and thus a larger area.
For further information, contact Alan.Mearns@noaa.gov.
Go back to OR&R Weekly Report.