Living in the Age of Plastic: Conserving Plastic vs. Conserving the Environment from Plastic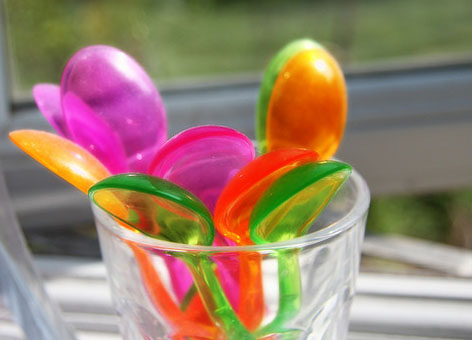 JUNE 28, 2012 -- Today, we live an era dominated by plastics—versatile, ubiquitous, "disposable" plastics. In this "Age of Plastic," enter Odile Madden, a research scientist studying historic plastic artifacts at the Smithsonian's Museum Conservation Institute. Using her training in materials science, Madden works to understand the materials—from their condition to their chemical composition—used in Smithsonian exhibits. She preserves these materials for as long as possible so that everyone who visits the museums can continue to enjoy these pieces of cultural history. The sensitive nature of the work demands non-invasive techniques that will not harm the artifact. It also stands in stark contrast to environmental conservation, which depends on materials that break down quickly and do not stick around a long time. For example, an abandoned fishing net drifting in the open ocean will have a much lower chance of accidentally ensnaring marine life ("ghost-fishing") if it breaks down quickly. The NOAA Marine Debris Program, on the other hand, works on the opposite end of the plastics spectrum from Madden. She and her team of cultural conservationists strive to maintain the integrity of valuable plastic artifacts, while at NOAA we're trying to conserve marine environments by, for example, getting rid of plastic debris. Madden's continued interest in pursuing the technical and philosophical issues surrounding plastic use prompted her to coordinate the recent interdisciplinary symposium, "The Age of Plastic: Ingenuity and Responsibility." Presentations covered everything from the space program's use of plastics to the history of synthetic fibers. They also examined the challenges of preserving plastic in museums and of recycling plastics at the end of their lifecycles and had an open look at how plastics are perhaps indispensable in science and human health. Nancy Wallace, program director for the NOAA Marine Debris Program, participated in an equally engaging panel discussion, where she highlighted the potential hazards of plastics that unintentionally end up as marine debris. (Unsurprisingly, the negative side of plastics.) Still, two important perspectives emerged from outside the world of marine debris:
The difference between "conservationists": Museums use "conservation" to mean saving materials, while environmentalists use "conservation" to mean saving the natural environment. Museums want the material to last as long as possible while we at NOAA would be happy if plastics degraded quickly into its molecular components: carbon, hydrogen, and oxygen. (Technically, the word "plastic" captures incredible variation in material type and structure. "Synthetic polymer" is more accurate but doesn't have much public cachet.)
The difference in values: The use of a material often defines its value. Materials that are meant to be art are arguably more valuable than materials used in life. Probably few people would disagree that there is an intrinsic difference in a resin sculpture housed at the Smithsonian versus the one-time-use spoon you pick up at the cafeteria. But we must ensure that materials are used and disposed of correctly, in ways that respect their value. Plastics are valuable—they were invented for a reason and serve a lot of fantastic purposes—but have become significantly devalued in today's throw-away culture.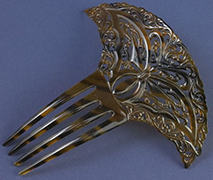 There is another, unfortunately ironic, conservation connection. In his keynote speech, Robert Friedel of the University of Maryland pointed out that in the early days of synthetics, objects were created to imitate natural materials. In part, this was done to stop poaching of hawksbill sea turtles for tortoiseshell and elephant tusks for ivory. Materials once used to conserve nature now occur in such quantity that natural environments are at risk from them. Nevertheless, it was clear from this symposium that people care: both about preserving museum artifacts and about the baby albatross that chokes on ingested plastic bits. There are so many different, equally valuable perspectives on the use of plastics. All of these perspectives are needed if we are to move forward, as a society, with a more thoughtful approach to material use and conservation. Find out more about plastic as marine debris, including whether plastic ever "goes away," from the NOAA Marine Debris Program website.