Mapping Safety, the Free and Easy Way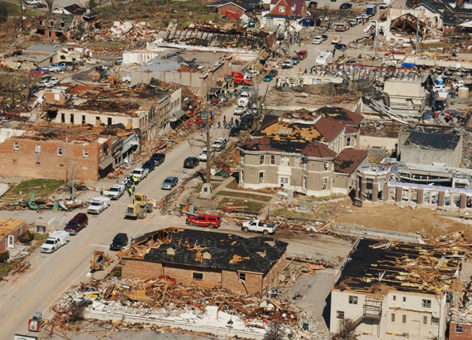 This is a guest entry by emergency planner Tom Bergman.
MAY 10, 2012 -- Many of you are familiar with Google Maps or MapQuest, examples of free online mapping tools that have probably saved you from driving around lost for hours. But I bet you haven't heard of another free mapping tool, known as MARPLOT, which has definitely saved more than a few people's lives.
Back in 1986, NOAA and Environmental Protection Agency staff created MARPLOT, along with several other programs in a software suite called CAMEO, to help emergency planners and responders deal with chemical spills. Even today, the CAMEO software programs remain popular tools for hazardous material releases worldwide.
One of these programs, CAMEOfm, gives anyone the ability to create and place custom objects (like a hospital or school) on a MARPLOT map and link those objects to data (like the hospital's emergency contact information) stored in the CAMEOfm database.
But I can tell you that this software doesn't only come in handy when a truck full of chemicals tips over next to a hospital. MARPLOT, when linked up with the database application CAMEOfm, is regularly operated as a free and easy-to-use Geographic Information System (GIS). One of the attractive features of these two programs is that they operate independently of any internet or server connection. This can be critical for responders during emergencies, when internet and cell phone service may simply not be available.
This was certainly the case on March 2, 2012, when a category EF3 tornado struck the Kentucky town of West Liberty with winds between 136–165 miles per hour. When the Urban Search and Rescue team arrived on scene from Lexington, Ky., they discovered that the severe weather had disabled the area's internet and cell phone service.
Fortunately, the local emergency manager was able to supply search and rescue team commander Gregg Bayer with a laptop computer which had MARPLOT installed with local map data and aerial photos of the affected region. They quickly were able to organize their search efforts and create customized maps by drawing search zones and map symbols directly on top of aerial photos. The MARPLOT program was instrumental in helping the emergency responders get familiar with the area, document suspected paths of destruction, and obtain 2010 U.S. Census estimates for the number of people and buildings affected—all without internet, cell phone, or server access.
A month later, on April 4, 2012, an even stronger tornado (rated EF4) ravaged northeastern Oklahoma and southwestern Kansas. Several area counties used MARPLOT and CAMEOfm to track the path of the tornado and then document and manage information related to recovery efforts, including photographs and videos of the storm damage.
Since 2009, a school district in Orlando, Fla., has been making extensive use of these free tools to develop high quality maps for emergency planning activities.
To prepare for Florida's not-unusual hurricanes, the district's emergency manager, Joe Mastandrea, combines school facility information in MARPLOT with predicted storm paths imported from the hurricane-tracking program HURREVAC 2010. This helps the school district know which schools might be affected (and to what degree) by an approaching storm and be ready to keep everyone safe.
Another, completely different, application of this software has started recently in a number of Oklahoma counties: taking inventory of their road signs. The county evaluates each of its road or highway signs using a "reflectometer," an instrument that predicts the sign's anticipated lifespan.
The information from the reflectometer is imported into MARPLOT, which plots the sign's location and allows users to search and display the data for each sign. By tracking when each sign needs to be replaced with a new, more reflective sign, the counties can make roads safer for drivers traveling at night.
In the reality of counties with only 3,000 people and no paid firefighters, emergency staff can't afford to hire GIS specialists (much less the fancy software) to do this kind of work. Fortunately, they can afford to download the free MARPLOT and other CAMEO suite software and easily put it to use.
The CAMEO staff at NOAA and EPA are constantly revising and improving all the CAMEO programs. Do you have your own experiences using the CAMEO programs? You can post and read stories about CAMEO software suite usage at www.cameotraining.org. For more information about obtaining the CAMEO programs, visit http://response.restoration.noaa.gov/cameo and http://www.epa.gov/osweroe1/content/cameo/index.htm.
Tom Bergman is the author of the CAMEO Companion and host of the www.cameotraining.org website. Tom is the EPCRA (Emergency Planning and Community Right-to-Know Act) Tier 2 Program Manager for the State of Oklahoma and has been a CAMEO trainer for many years. He has conducted CAMEO training courses in Lithuania, Poland, England, and 43 U.S. states.