Parts of the U.S. Government are closed. However, because the information this site provides is necessary to protect life and property, it will be updated and maintained during the Federal Government shutdown. For critical weather information, please visit
www.weather.gov
. To learn more, see
www.commerce.gov
.
In New Jersey, Celebrating a Revived Marsh and the Man who Made it Possible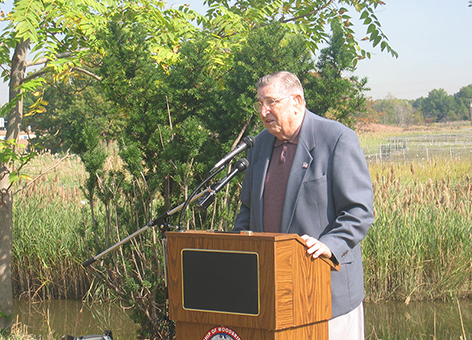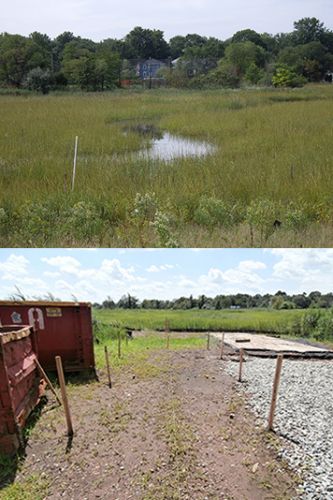 NOVEMBER 22, 2013 -- Ernie Oros, former New Jersey State Assemblyman and octogenarian, stood next to me on the bank of a newly created tributary to the Woodbridge River and looked out across an expanse of restored tidal marsh. It was May 2008 and the marsh that he had long championed was now lush and green and teeming with fish. This inspiring sight before us was the result of a marsh restoration project undertaken by NOAA, the Army Corps of Engineers, New Jersey Department of Environmental Protection, and the Port Authority of New York and New Jersey. Years ago a tall berm was raised between the Woodbridge River and this marshland, effectively walling it off from the reach of the tides that replenished it. Reeds that grow in damaged marshes choked off the tides even further. He gave a pause, drew a breath and was on to the next subject before I had finished marveling at the sea of grass standing before us. "When can you get the observation walkway back up?" Ernie asked me. "Soon," I replied, "we have a plan." "Good," he said, "I'm not getting any younger." That's how the conversation went until August 2012 when Ernie passed away at the age of 88. The construction of the tidal marsh itself—with all the complexities of hydrology, chemistry, biology, logistical twists and turns, negotiations, permits, and contract discussions—seemed to go up in a snap. In two years it went from design contract to dedication ceremony. Yet, the observation boardwalks—there were now two—seemed to lag behind in a mire of contract disputes, tight budgets, two hurricanes, and extension after extension of funding agreements.
A Vision to Restore
I never wondered why Ernie was so anxious to move forward; he was after all in his 80s and by his own account in failing health. In his knock-around clothes, he looked like an old clam digger, but in his best suit, like the one he wore the day of the marsh dedication ceremony, he still cut the figure of the State Assemblyman he once was. Ernie had a vision for this place, and he was now on a roll. He had long ago established Woodbridge River Watch, a community organization to advocate for open space in Woodbridge, N.J.; he had guided the town through major acquisition and conservation efforts; he gathered momentum for his butterfly garden; planned to landscape the perimeter with local historic artifacts; and now he could add the marsh restoration to his list of achievements. Among all of his accomplishments, nothing could be more dramatic than having blown life into this dying marshland. It linked the past and the future to a community that blossomed at the cross roads of the American colonial experience in the 17th century, soared to the peak of industrialization beginning in the 18th and 19th centuries, then boomed and at last came to rest upon the suburbanization movement of the 20th century. For myself, I could live with the simple sweet note of this being an urban habitat: a rebirth for colonial wading birds, ribbed mussels, fiddler crabs, and young juvenile bluefish called "snappers." But for Ernie, the marsh was the opening hymn to a chorus of American history. It took me a long time to realize what Ernie was up to. The marsh wasn't just a host for the history garden; it itself was an artifact. The marsh represented every century that came before the first European settlers arrived. Better than any artifact, the marsh was living history as far as Ernie was concerned.
An interpretative sign displaying the flora and fauna found in Woodbridge Marsh. (Illustrations: Jorge Cotto. Design: Ann Folli)
The observation boardwalks were the last piece of the plan. Both Ernie and I viewed the future boardwalks and their brightly designed story panels as a means of drawing in the citizens of Woodbridge. Boardwalks send a signal of welcome where a marsh alone often does not. The signs would interpret for them the plants, the animals, the natural processes unfolding in the marsh around them. That is why Ernie was so anxious to see this vision through to completion. Despite the town's position on the waterfront of three major bodies of water—the Raritan River, Raritan Bay, and Arthur Kill (a tidal straight separating the township from New York City)—very little of it was accessible to the public. Ernie hoped to change that by inviting people into a renewed Woodbridge marsh.
A Day to Remember
Greg Remaud is the Deputy Director for the New York/New Jersey Baykeeper. The Baykeeper, a long-time partner of NOAA and advocate for open space in New York Harbor, is a non-profit organization committed to the conservation and restoration of the Hudson-Raritan Estuary. For Remaud, it had become increasingly apparent that the post-industrial age presented opportunities to create New Jersey's waterfront in a new image. Greg had met up with Ernie Oros years before. With the help of many others, this pair championed a new way forward for the Woodbridge River. Eventually, they were able to draw the attention of key agencies and help these dreams take the shape of Spartina grasses, High Tide bush, and killifish. Then, earlier this year, I learned of the Baykeeper's plan to honor Ernie's memory with a day-long celebration.
On the astonishingly beautiful Saturday morning of September 28, 2013, the NOAA Restoration Center was on hand to be part of a very special event to honor Ernie's life. To honor his legacy, the New York/New Jersey Baykeeper held a family-friendly event right next to what I consider Ernie's greatest environmental achievement: the 67-acre Woodbridge River Wetland Restoration Project. In a day that featured music, games, picnics, and face painting, the most popular event was the free kayak tours with the very capable staff of the Baykeeper, who led citizens through a seeming maze of restored marshes and tidal creeks. Several of Ernie's family members were present. His sons, granddaughters, and great-grandkids jumped into canoes and kayaks to venture a ride through Ernie's great achievement.
A Role for NOAA
NOAA's involvement with the Woodbridge River Wetland Restoration Project began to take shape sometime in the late 1990s. We provided funds from natural resource damage settlements for two local oil spills to conduct feasibility studies, design, and permitting in 2000. Under a partnership of federal and state agencies, the project was designed and constructed between 2006 and 2007. NOAA and New Jersey Department of Environmental Protection provided $2.3 million, combining it with funds from the Army Corps of Engineers Harbor Deepening Program to make the full project come together for the Woodbridge River.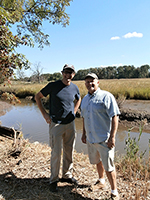 Carl Alderson (left, NOAA) and Greg Remaud (right, NY/NJ Baykeeper) on the banks of the Woodbridge River on Ernie Oros Celebration Day, Sept. 28, 2013. Credit: Susan Alderson.
The project removed berms and obstructions that had sealed the former wetland from the Woodbridge River for decades and reunited two large tracts of land with the tides via created tidal creeks and planted marsh grasses. Today, the site is once again the home of wading birds, waterfowl, fiddler crabs, ribbed mussels, and seemingly hundreds of thousands of killifish. Ernie had tirelessly dedicated much of his adult life to campaign for the acquisition, protection, and restoration of his beloved Woodbridge River wetlands and his achievements will live on in their vibrant waters. This is a post by the NOAA Restoration Center's Carl Alderson. Carl is a Marine Resource Specialist with the NOAA Restoration Center, located at the JJ Howard Marine Science Lab in Highlands, N.J. Carl provides oversight of coastal habitat restoration projects and marine debris programs through NOAA's Damage Assessment, Remediation, and Restoration Program (DARRP) and Community-based Restoration Grants Program (CRP) in the mid-Atlantic region.