Back to top
New NOAA Model Improves Understanding of Potential Paths of Japan Tsunami Debris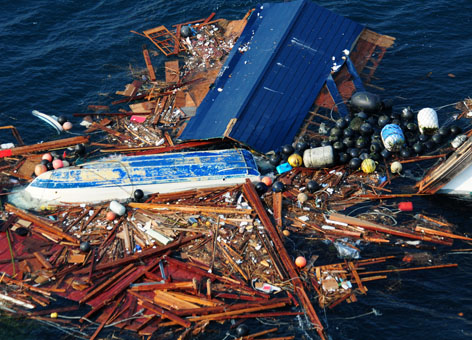 PUBLISHED APRIL 12, 2012; GRAPHIC UPDATED APRIL 6, 2014 -- As the devastating tsunami waves which hit Japan in March 2011 receded from land, they washed approximately 5 million tons of debris into the ocean. While Japan estimates about 30 percent of that originally floated away from shore, there are no accurate estimates of how much debris is still floating today.
Concerns persist that this diverse array of floating materials—everything from boats and building rubble to appliances and consumer products—could wash up on shores in Hawaii, Alaska, the U.S. west coast, and Canada over the next few years.
A recently updated model from the National Oceanic and Atmospheric Administration (NOAA) predicted that some very buoyant debris already may have reached the Pacific Northwest coast as early as winter 2011–2012.
NOAA researchers were validating these results with other modeling experts when a Japanese fishing vessel was reported adrift in Canadian waters near British Columbia, and its connection to the tsunami was confirmed. The model shows that the bulk of the tsunami debris, however, likely remains dispersed in the Pacific Ocean north of the main Hawaiian Islands and east of Midway Atoll.
NOAA continues to lead efforts with international, federal, state, and local partners to collect data on marine debris quantity, location, and movement; to assess its possible impacts; and to make plans to reduce tsunami debris impacts to our coastal communities and natural resources.
Predicting Where the Debris May Travel
Immediately after the March 2011 disaster, NOAA used a computer model employing past data on ocean currents to forecast potential paths of the tsunami debris. It provided NOAA with an idea of the general direction and timing of the debris, with the recognition that over time changing ocean conditions might affect the expected behavior of the drifting materials.
More than a year later, NOAA modelers have been able to incorporate wind speed and ocean current data from the past year into an updated model. This new modeling effort gives us a better understanding of where the debris may have traveled to-date, but it does not predict where it will go in the future or how fast it will drift. The new model takes into account that wind may move items at different speeds based on how high or low materials sit in the water.
UPDATE: No Solid Mass of Debris from Japan in the Pacific Ocean
Monitoring Debris at Sea and on Shore
NOAA is collecting observations from aircraft, vessels, and high-resolution satellites in an attempt to track where the debris may go as it crosses the ocean. We are working with partners that regularly travel the Pacific Ocean, including the U.S. Coast Guard, commercial shipping vessels, and the fishing industry to keep watch for debris. Ships may report sightings to DisasterDebris@noaa.gov.
Currently, NOAA and the U.S. Fish and Wildlife Service, and state and local partners are surveying the background levels of marine debris stranded on U.S. coastlines in order to better detect potential influxes of tsunami debris on land. The public may also participate in shoreline monitoring by requesting our standardized protocols through the NOAA Marine Debris Program at MD.monitoring@noaa.gov.
For the past several months, the NOAA Marine Debris Program and federal, state, and local partners have been preparing contingency plans that will help protect our coastal communities, since the debris may be a hazard to natural resources, such as U.S. beaches, wildlife, marine sanctuaries, and navigation. These plans will guide local responses in case large, hazardous, or unmanageable items need to be removed from U.S. shores.
State radiation experts have assured NOAA that it is highly unlikely any debris will be contaminated. Some marine debris collected along shorelines has been randomly spot-checked in Hawaii and on the West Coast, and to date, no one has detected radiation levels of concern.
Keeping Up with the Latest Information
The NOAA Marine Debris Program continues to provide updates to communities and partners in Hawaii, Alaska, and on the West Coast through a number of public meetings and other outreach activities.
To stay up-to-date on the latest information on the debris as well as NOAA monitoring and modeling efforts, visit the NOAA Marine Debris Program website. Our state partners are also sharing regional information at http://disasterdebris.wordpress.com.