No Oil Spilled, Though Fire Continues after Tug and Barge Hit Gas Pipeline near Louisiana's Bayou Perot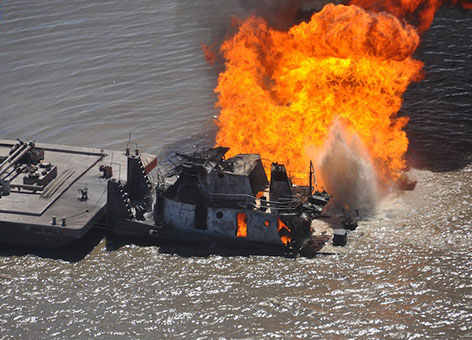 MARCH 14, 2013 -- NOAA's Office of Response and Restoration is assisting the U.S. Coast Guard after a tug and barge hit a liquefied petroleum gas pipeline the evening of March 12, 2013, resulting in a fire near Bayou Perot, 30 miles south of New Orleans, La. While the fire was initially reported to be 100 feet tall, it appears to have reduced in size by approximately 30%. The tug, UTV Shanon E. Settoon, carrying 1,000 gallons (24 barrels) of diesel fuel, has grounded, with the fire continuing to burn next to it. The barge it was pushing, Oil Barge SMI 572, appears to remain intact, along with the approximately 93,000 gallons (2,215 barrels) of crude oil it is carrying. NOAA oceanographers have used the GNOME oil spill forecasting software program to model the projected path of potentially spilled oil and will continue to do so on a daily basis. According to the Coast Guard, "Visual imagery initially indicated potential pockets of crude oil; however, those areas have been determined to be particulate ash from the liquefied natural gas burn off." The NOAA Scientific Support Coordinator in Louisiana has been helping aerial observers map their findings and advising the Coast Guard on various natural resource and pollution response issues. While on an aerial overflight of the area Wednesday afternoon, neither he nor the other observers noted any oil or sheen on the water, and observations of the nearby shoreline have also been free of oil. Before beginning a pollution investigation and salvage operations, the Coast Guard has been allowing the vessel and residual gas to burn off. The response has sent out containment boom to surround the vessels and skimmers have been deployed for cleanup. The damaged Chevron pipeline, carrying liquefied petroleum gas, has been shut down. Although there were injuries, all four crew members were able to escape from the tug. Watch a U.S. Coast Guard video of an aerial view of the pipeline burning, the damaged vessels, and the response efforts from March 13, 2013.
Find the latest updates at the Coast Guard Newsroom.