NOAA Lifts 14 Metric Tons of Fishing Nets and Plastics from Hawaiian Coral Reefs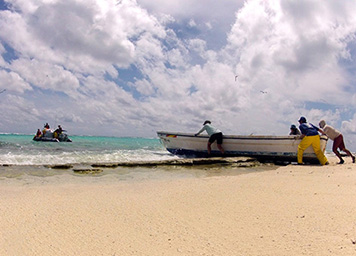 JUNE 14, 2013 -- The sea life around Hawaii's remote Midway Atoll is swimming easier after NOAA recently removed 14 metric tons of debris from its waters (A metric ton equals about 2,204 pounds.). The removal team, consisting of members of the NOAA Coral Reef Ecosystem Division, spent 19 days collecting debris both from along the shoreline and in the water around Midway Atoll in the Northwestern Hawaiian Islands. As usual, the bulk of the items recovered were abandoned fishing gear and plastics. Notably, the team also removed a 23-foot-long derelict vessel weighing close to three-quarters of a metric ton. This vessel was confirmed as having been lost from Japan during the 2011 earthquake and resulting tsunami. (Learn more about marine debris from the tsunami.) This current round of marine debris removal efforts began in 2011 when a plan was put in place to help restore the environment injured after the research ship M/V Casitas ran aground on the coral reefs of Pearl and Hermes Atoll in 2005. This atoll is located in the Northwestern Hawaiian Islands in what is now the Papahanaumokuakea Marine National Monument. Our office, along with our partners, undertook a Natural Resource Damage Assessment for this ship grounding. This process resulted in a legal settlement which provided NOAA with funds to conduct marine debris removal projects over several summers, starting in 2011. The 2011 efforts removed 15 metric tons of marine debris while the 2012 cruise brought in 52 metric tons. Since 2011, NOAA has collected a total of 81 metric tons or 178,000 pounds of debris from the Northwestern Hawaiian Islands.
The 2013 NOAA team collected 14 metric tons of fishing gear, plastic, and other debris from the shoreline and waters around Midway Atoll. (NOAA)
Marine debris, particularly discarded and lost fishing gear, is a substantial source of coral damage in the Papahanaumokuakea Marine National Monument. Fishing nets frequently get lodged on corals and smother or break the corals underneath them. NOAA and our partners determined that removing nets from coral reefs in this area would prevent similar injuries to corals as those that occurred during the M/V Casitas grounding and subsequent response. Learn more about efforts to restore coral reefs after this ship grounding [PDF].