Parts of the U.S. Government are closed. However, because the information this site provides is necessary to protect life and property, it will be updated and maintained during the Federal Government shutdown. For critical weather information, please visit
www.weather.gov
. To learn more, see
www.commerce.gov
.
NOAA Opens Disaster Response Center in Gulf of Mexico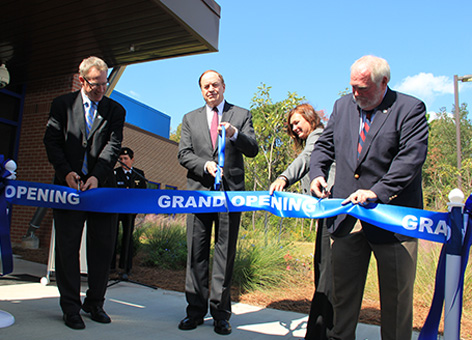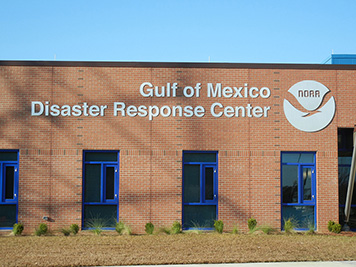 OCTOBER 15, 2012 -- Today, NOAA dedicated a new facility for centralizing disaster coordination and response activities for federal, state, and local responders along the Gulf coast. The Gulf of Mexico Disaster Response Center, based in Mobile, Ala., was designed to expand both NOAA's regional presence and the federal capacity to plan for and respond to all types of emergencies, both environmental and man-made, in the Gulf region.
"The Gulf of Mexico Disaster Response Center will be critical to Alabama and other states in the region as they prepare for and respond to disasters, natural and otherwise, that affect the Gulf of Mexico and those that thrive off of its resources," said Sen. Richard C. Shelby of Alabama, who attended the opening ceremony. "By assisting susceptible communities like Mobile in their emergency preparedness, this facility will help to prevent unnecessary tragedies in future crises."
The vision for the NOAA Gulf of Mexico Disaster Response Center was borne out of the devastating 2005 hurricane season that included Hurricanes Katrina and Rita. Congress recognized the need for and later funded a central NOAA facility and program in the Gulf of Mexico dedicated to preparing for, responding to, and recovering from all types of disasters in the area.
The center allows NOAA to consolidate several programs in the Gulf region, streamlining response to emergencies. It will house navigation response crafts and their teams, as well as experts in oil and chemical spill response, incident meteorology, damage assessment, habitat conservation and restoration planning, marine debris, nautical charting, and navigation safety. To better support federal and regional emergency planners and managers, the facility will improve the accessibility, redundancy, and distribution of NOAA data, information, and tools to the people who most need them during disasters.
Here, NOAA can share with the Gulf of Mexico response community the broad range of products and services NOAA provides before, during, and after emergencies, whether it's a grounded ship or a tropical storm. In between actual emergencies, the center will serve as a coordination and training hub for federal, state, and local response preparedness activities.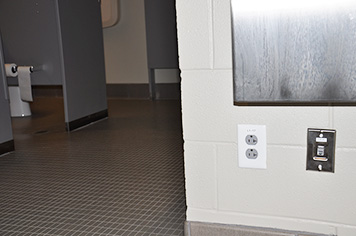 Phone and internet network ports located in the nearly tornado- and hurricane-proof restrooms allow responders to continue working in the NOAA Disaster Response Center even during severe weather. (NOAA)
The new center itself is an environmentally friendly, 15,200-square-foot, hardened structure built away from storm surge threats, designed to withstand the wind assault of a major hurricane, and providing a physical location to pre-stage and coordinate post-disaster response activities. The entire facility is hardened to survive the kind of severe weather generated by a strong hurricane, though only the restrooms are built to withstand the damaging 200 mph winds of a Force-5 tornado. Even if a tornado threatened the area around the center, the staff and any visitors can take shelter in the restrooms while still being able to monitor the response situation outside using the internet and phone ports located there.
You can read more about why the Gulf of Mexico needs a Disaster Response Center, as well as some reflections on the new center from its director, Charlie Henry.