Parts of the U.S. Government are closed. However, because the information this site provides is necessary to protect life and property, it will be updated and maintained during the Federal Government shutdown. For critical weather information, please visit
www.weather.gov
. To learn more, see
www.commerce.gov
.
NOAA Opens Its Doors (and Scientists) in City-wide Celebration of Science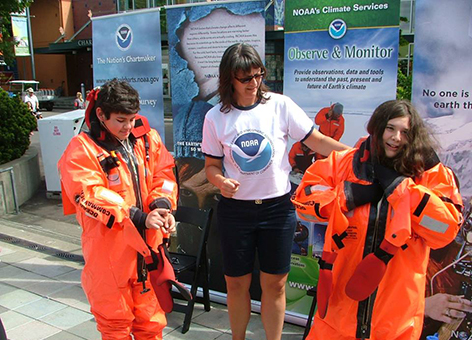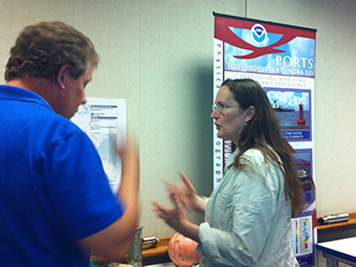 JUNE 18, 2013 -- Do you know the difference between a seal skull and a sea lion skull? Have you walked under a bottom trawl net used for fishery science? Have you ever seen an ocean wave glider used to collect oceanographic data? Have you ever held a piece of a dock that floated across the Pacific Ocean? Visitors to the 2nd annual NOAA Open House in Seattle, an event held in conjunction with the Seattle Science Festival, can answer "Yes!" to these questions, and many more. On June 14, NOAA's Seattle Sand Point campus opened its doors to the public. Four tours were offered that focused on different aspects of NOAA's mission: Marine Mammal Science, featuring the bone collection; Fisheries Surveys, showing off the net loft; Physical Science, including ocean engineering, the dive center, and the weather forecasting floor; and a Shoreline Restoration walk emphasizing the connection between aquatic environments and our everyday lives. The Open House also featured exhibit booths, a movie room, and a kid's corner. Over 500 visitors attended, ranging from families with school-aged children to a bus full of retirees. Visitors had the chance to meet NOAA scientists and managers at exhibit booths highlighting NOAA programs that weren't featured on the tours, including the work of the NOAA Fisheries' Northwest Fisheries Science Center whose campus is located 3 miles away. The 2013 Seattle Science Festival was an 11-day celebration of science and technology that happened in our community from June 6-16, 2013.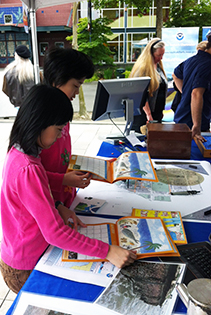 Kids learn about marine debris with NOAA at the Seattle Science EXPO Day. (NOAA)
It featured luminaries from the science world in opening and closing night events, a free Science EXPO Day featuring hands-on activities and special stage programs at the Seattle Center, and a variety of Signature Programs at venues around the region and occurring throughout the Festival. In addition to our Open House, NOAA had a large presence at the Seattle Science Festival Expo day at Seattle Center where at least 2,000 visitors learned about NOAA through hands-on activities. Almost 100 NOAA staff across all line offices participated in these Seattle Science Festival activities to bring NOAA science to kids of all ages. In addition to the Pacific Science Center, regional sponsors included the Boeing Company, Aerojet, Amgen, Facebook - Seattle, Fred Hutchinson Cancer Research Center, Google, Microsoft, and others.