As North American Oil Production Explodes, So Do Oil Trains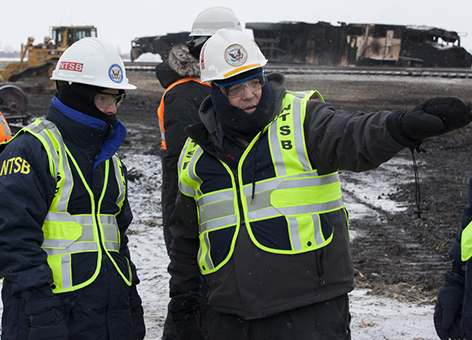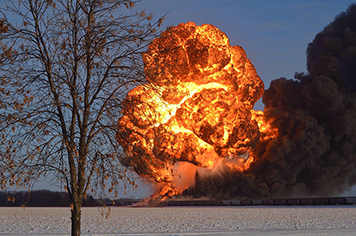 JANUARY 10, 2014 -- December 30, 2013 turned out to be an explosive day. On that date, a train hauling grain near Casselton, N.D., derailed into the path of an oncoming crude oil train, resulting in several oil tank cars exploding.
Fortunately, the burning tank cars caused no injuries, but local residents were evacuated as a precaution.
The North Dakota accident is one of a number of high-profile rail accidents in North America over the past year, which included the July 2013 accident in Quebec, Canada, that killed 47 people.
Earlier this week, on January 8, another train accident occurred, this one in New Brunswick near the Maine border. It resulted in several crude oil and liquefied petroleum gas tank cars catching fire.
The growth in U.S. and Canadian oil production has exceeded pipeline capacity and has resulted in a dramatic increase in oil shipments via rail. According to the Association of American Railroads [PDF], in 2008 U.S. railroads moved "just 9,500 carloads of crude oil. In 2012, they originated nearly 234,000 carloads."
These recent accidents have also raised concerns about the safety of some of these crude oils being transported.
Within days of the North Dakota oil train accident, the U.S. Pipeline and Hazardous Materials Safety Administration issued a warning to emergency responders that "crude oil being transported from the Bakken region may be more flammable than traditional heavy crude oil." The full safety alert can be found online [PDF].
This rise in transporting oil by rail is one way the growth in the domestic oil industry and changing oil transportation patterns can pose new environmental and safety risks. Unit trains carrying oil are becoming a common sight. (A "unit train" is an entire train carrying the same product to the same destination. A crude oil unit train of 100 tanker cars would carry about 60,000 barrels, or about 2.5 million gallons.) Additional rail terminals have been proposed in Washington state and elsewhere to accommodate growing oil production in the Dakotas and eastern Montana, particularly from the Bakken oil fields.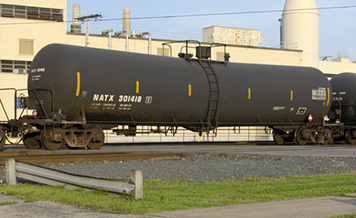 A DOT-111 car, which is currently the type of train car that carries Bakken crude oil. (U.S. Pipeline and Hazardous Materials Safety Administration)
NOAA and other spill responders are working to understand these emerging risks in order to effectively and safely respond to oil spills. We are currently working with the University of Washington's Program on the Environment on a project to explore these risks from changes in oil and gas production and transportation. Stay tuned for future blog posts about the progress and findings of this project.