Parts of the U.S. Government are closed. However, because the information this site provides is necessary to protect life and property, it will be updated and maintained during the Federal Government shutdown. For critical weather information, please visit
www.weather.gov
. To learn more, see
www.commerce.gov
.
Out of Sandy, Lessons in Helping Coastal Marshes Recover from Storms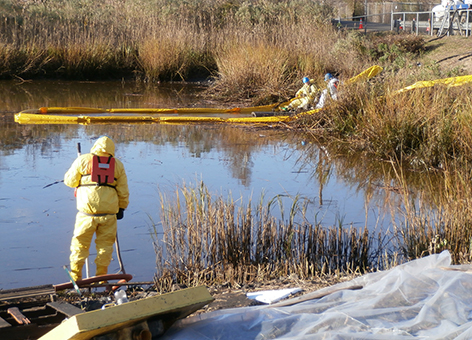 OCTOBER 3, 2014 -- Boats capsized in a sea of grass. Tall trees and power lines toppled over. A dark ring of oil rimming marsh grasses. This was the scene greeting NOAA's Simeon Hahn and Carl Alderson a few days after Sandy's floodwaters had pulled back from New Jersey in the fall of 2012. They were surveying the extent of an oil spill in Woodbridge Creek, which is home to a NOAA restoration project and feeds into the Arthur Kill, a waterway separating New Jersey from New York's Staten Island. When the massive storm known as Sandy passed through the area, its flooding lifted up a large oil storage tank at the Motiva Refinery in Sewaren, New Jersey. After the floodwaters set the tank back down, it caused roughly 336,000 gallons of diesel fuel to leak into the creek and surrounding wetlands. That day, the NOAA team was there with Motiva and the New Jersey Department of Environmental Protection (DEP) to begin what can be a long and litigious process of determining environmental impacts, damages, and required restoration—the Natural Resource Damage Assessment process. In this case, however, not only did the group reach a cooperative agreement—in less than six months—on a restoration plan for the oiled wetlands, but at another wetland affected by Sandy, NOAA gained insight into designing restoration projects better able to withstand the next big storm.
Cleaning up the Mess After a Hurricane
Hurricanes and other large storms cause a surprising number of oil and hazardous chemical spills along the coast. After Sandy hit New York and New Jersey, the U.S. Coast Guard began receiving reports of petroleum products, biodiesel, and other chemicals leaking into coastal waters from damaged refineries, breached petroleum storage tanks, and sunken and stranded vessels. The ruptured tank at the Motiva Refinery was just one of several oil spills after the storm, but the approach in the wake of the spill is what set it apart from many other oil spills. "Early on we decided that we would work together," reflected Hahn, Regional Resource Coordinator for NOAA's Office of Response and Restoration. "There was a focus on doing the restoration rather than doing lengthy studies to quantify the injury." This approach was possible because Motiva agreed to pursue a cooperative Natural Resource Damage Assessment with New Jersey as the lead and with support from NOAA. This meant, for example, that up front, the company agreed to provide funding for assessing the environmental impacts and implementing the needed restoration, and agreed on and shared the data necessary to determine those impacts. This cooperative process resulted in a timely and cost-effective resolution, which allowed New Jersey and NOAA to transition to the restoration phase.
Reaching Restoration
Because of the early agreement with Motiva, NOAA and New Jersey DEP did not conduct exhaustive new studies detailing specific harm to these particular tidal wetlands. Instead, they turned to the wealth of data from the oil spill response and existing data from the Arthur Kill to make an accurate assessment of the oil's impacts.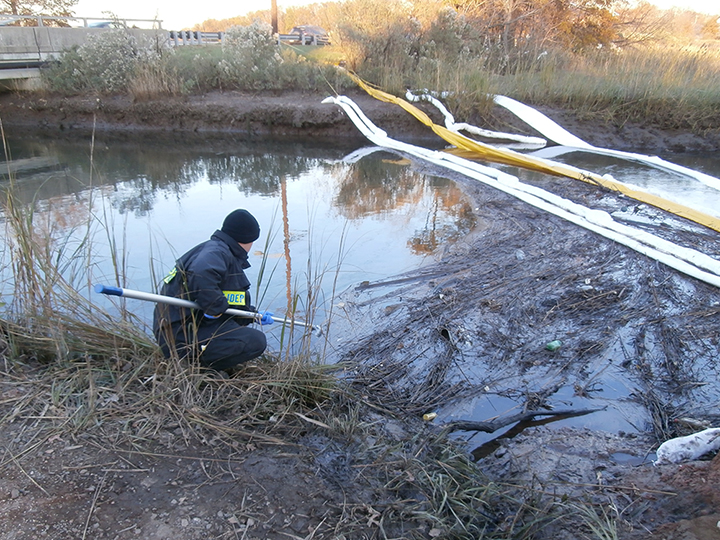 New Jersey Department of Environmental Protection takes an oil sample at Woodbridge Creek Marsh on November 6, 2012. Oil is visible gathering along the white and yellow containment booms. (NOAA)
From their shoreline, aerial, and boat surveys, they knew that the marsh itself had a bathtub ring of oil around the edge, affecting marsh grasses such as Spartina. No oiled wildlife turned up. However, the storm's immediate impacts made it difficult to take water and sediment samples or directly examine potential effects to fish. Fortunately, the assessment team was able to use a lot of data from a nearby past oil spill and damage assessment in the Arthur Kill. In addition, they could rely on both general scientific research on oil spill toxicology and maps from the response team detailing the areas most heavily oiled. Together, this created a picture of the environmental injuries the oil spill caused to Woodbridge Creek. Next, NOAA economists used the habitat equivalency analysis approach to calculate the amount of restoration needed to make up for these injuries: 1.23 acres of tidal wetlands. They then extrapolated how much it will cost to do this restoration based on seven restoration projects within a 50 mile radius, coming to $380,000 per acre. As a result, NOAA and New Jersey agreed that Motiva needed to provide $469,000 for saltwater marsh restoration and an additional $100,000 for monitoring, on top of Motiva's cleanup costs for the spill itself. To use this relatively small amount of money most efficiently, New Jersey DEP, as the lead agency, is planning to combine it with another, larger restoration project already in the works. While still negotiating which project that will be, the team has been eyeing a high-profile, 80-acre marsh restoration project practically in the shadow of the Statue of Liberty. Meanwhile, the monitoring project will take place upstream from the site of the Motiva oil spill at the 67-acre Woodbridge Creek Marsh, which received light to moderate oiling. NOAA already has data on the state of the animals and plants at this previously established restoration site, which will provide a rare comparison for before and after the oil spill.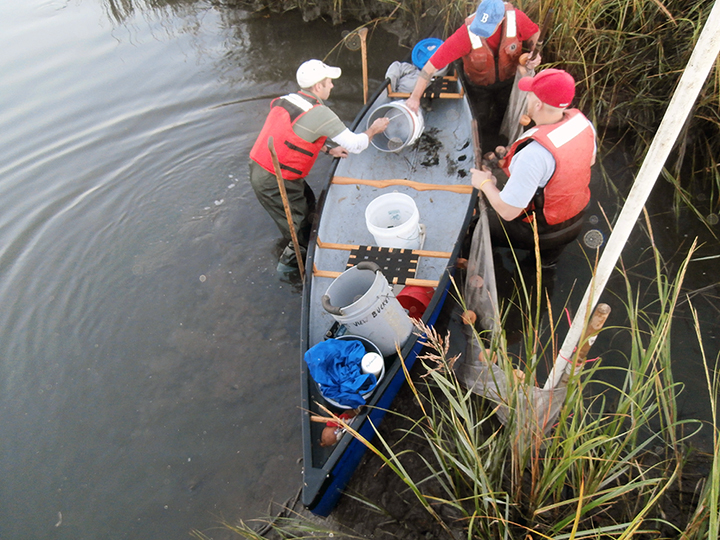 In 2012 workers set up seine nets to survey fish at the mouth of a tidal creek at the Woodbridge Creek Marsh restoration project. This was part of routine monitoring of the restoration project, which was completed in 2007. In late 2012, this marsh was oiled from the Motiva spill and another monitoring program will be set up to look for long-term impacts. (NOAA)
Creating More Resilient Coasts
A storm as damaging as Sandy highlights the need for restoring wetlands. These natural buffers offer protection for human infrastructure, absorbing storm surge and shielding shorelines from wind and waves. Yet natural resource managers are still learning how to replicate nature's designs, especially in urban areas where river channels often have been straightened and adjoining wetlands filled and replaced with shorelines armored by concrete riprap. To the south in Philadelphia, Sandy contributed to significant erosion at a restored tidal marsh and shoreline at Lardner's Point Park, located on the Delaware River. This storm revealed that shoreline restoration techniques which dampen wave energy before it hits the shore would help protect restored habitat and reduce erosion and scouring. Out of this destructive storm, NOAA and our partners are trying to learn as much as possible—both about how to reach the restoration phase even more efficiently and how to make those restoration projects even more resilient. The wide range of coastal threats is not going away, but we at NOAA can help our communities and environment bounce back when they do show up on our shores. Learn more about coastal resilience and how NOAA's Ocean Service is helping our coasts and communities bounce back after storms, floods, and other disasters and follow #NOAAResilience on social media.