Parts of the U.S. Government are closed. However, because the information this site provides is necessary to protect life and property, it will be updated and maintained during the Federal Government shutdown. For critical weather information, please visit
www.weather.gov
. To learn more, see
www.commerce.gov
.
Overcoming the Biggest Hurdle During an Oil Spill in the Arctic: Logistics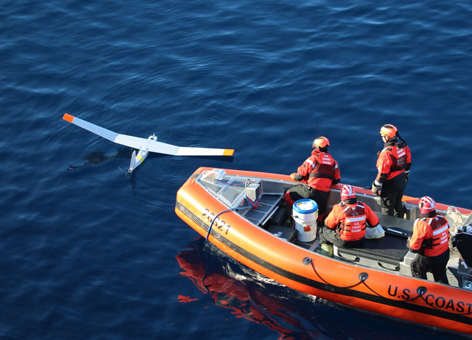 AUGUST 22, 2014 -- August in the Arctic can mean balmy weather and sunny skies or, fifteen minutes later, relentless freezing rain and wind blowing off ice floes, chilling you to the core. If you were headed to an oil spill there, your suitcase might be carrying a dry suit, down parka, wool sweaters and socks, your heaviest winter hat and gloves, and even ice traction spikes for your boots. Transit could mean days of travel by planes, car, and helicopter to a ship overseeing operations at the edge of the oil spill. Meanwhile, the oil is being whipped by the wind and waves into the nooks and crannies on the underside of sea ice, where it could be frozen into place. Even for an experienced oil spill responder like Jill Bodnar, the complexity of working in such conditions goes far beyond the usual response challenges of cleaning up the oil, gathering data about the spill, and minimizing the impacts to marine life and their sensitive habitats. Rather, in the Arctic, everything comes down to logistics. The unique logistics of this extreme and remote environment drive to the heart of why Bodnar, a NOAA Geographic Information Systems (GIS) specialist, and her colleague Zachary Winters-Staszak are currently on board the U.S. Coast Guard Cutter Healy, at the edge of the sea ice north of Alaska. They are participating in an Arctic Technology Evaluation, an exercise conducted by the U.S. Coast Guard Research and Development Center (RDC) in support of the Coast Guard's broader effort known as Arctic Shield 2014. Building on what was learned during the previous year's exercise, the advanced technologies being demonstrated in this evaluation could potentially supplement those tools and techniques responders normally would rely on during oil spills in more temperate and accessible locations. This Arctic Technology Evaluation provides multiple agencies and institutions, in addition to NOAA, the invaluable opportunity to untangle some of the region's knotty logistical challenges on a state-of-the-art Coast Guard icebreaker in the actual Arctic environment.
Getting from A to B: Not as Easy as 1-2-3
Bodnar has been mapping data during oil spills for more than a decade, but this exercise is her first trip to the Arctic. While preparing for it, she found it sobering to learn just how many basic elements of a spill response can't be taken for granted north of the Arctic Circle. In addition to the scarcity of roads, airports, and hotels, other critical functions such as communications are subject to the harsh Arctic conditions and limited radio towers and satellite coverage. Out at sea ships depend on satellites for phone calls and some Internet connectivity, but above the 77th parallel those satellites often drop calls and can only support basic text email. The remoteness of the Arctic questions how hundreds of responders would get there, along with all the necessary equipment—such as boom, skimmers, and vessels—not already in the area. Once deployed to the spill, response equipment has the potential to ice-over, encounter high winds, or be grounded from dense fog. Communicating with responders and decision makers on other ships, on shore at a command post, or even farther away in the lower 48 states would be an enormous challenge. For example, if an oil spill occurs in the Beaufort Sea, north of Alaska, the nearest and "largest" community is Barrow, population 4,429. However, Barrow has very limited accommodations. For comparison, 40,000 people, including Bodnar, responded to the 2010 Deepwater Horizon oil spill in the Gulf of Mexico. This was possible because of the spill's proximity to large cities with hotel space and access to food and communications infrastructure. This is not the case for small Arctic villages, where most of their food, fuel, and other resources have to be shipped in when the surrounding waters are relatively free of ice. But to respond to a spill in the Arctic, the likely center of operations would be on board a ship, yet another reason working with the Coast Guard during Arctic Shield is so important for NOAA.
NOAA's Role in Arctic Shield 2014
During this August's Arctic Technology Evaluation, the Coast Guard is leading tests of four key areas of Arctic preparedness. NOAA's area focuses on how oil disperses at the edge of the sea ice and collects under the older, thicker ice packs. NOAA's Office of Response and Restoration is working with NOAA's Unmanned Aircraft Systems (UAS) program to develop techniques for quickly identifying and delineating a simulated oil spill in the Arctic waters near the ice edge.
Spraying the inert green dye used to simulate an oil spill in Arctic waters. (NOAA)
The Coast Guard will be using both an unreactive, green fluorescein dye and hundreds of oranges as "simulated oil" for the various tools and technologies to detect. Normally during an oil spill, NOAA or the Coast Guard would send people up in a plane or helicopter to survey the ocean for the oil's precise location, which NOAA also uses to improve its models of the oil's expected behavior. However, responders can't count on getting these aircraft to a spill in the Arctic in the first place—much less assume safe conditions for flying once there. Instead, the UAS group is testing the feasibility of using unmanned, remote-controlled aircraft such as the Puma to collect this information and report back to responders on the ship. Bodnar and Winters-Staszak will be pulling these data streams from the Puma into Arctic ERMA®, NOAA's mapping tool for environmental response data. They'll be creating a data-rich picture of where the oil spill dye and oranges are moving in the water and how they are behaving, particularly among the various types of sea ice. Once the oil spill simulation is complete, Bodnar and Winters-Staszak will be reporting back on how it went and what they have learned. Stay tuned for the expedition's progress in overcoming the many logistical hurdles of a setting as severe as the Arctic here and at oceanservice.noaa.gov/arcticshield. Check out photos from their time aboard the U.S. Coast Guard Cutter Healy.