A Pennsylvania Mining Town Moves Beyond Toxic History of Denuded Mountains and Contaminated Creeks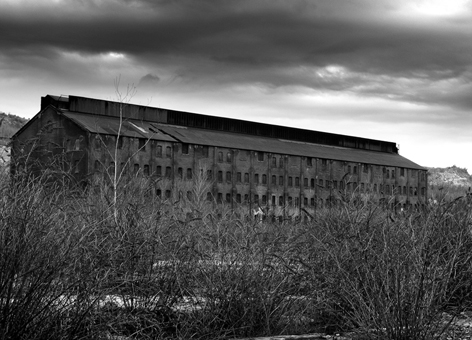 MARCH 3, 2014 -- Palmerton, a small town in eastern Pennsylvania's coal region, had its beginnings largely as a company town. In fact, it was incorporated in 1912 around the area's growing zinc mining industry, which began in 1898. For many years, the New Jersey Zinc Company was the largest U.S. producer of zinc, which is used to make brass and construction materials. The town actually was named after Stephen Palmer, once head of the company. But this company left more than just a name imprinted on this part of Pennsylvania. It also left a toxic legacy on the people and the landscape. The backdrop for this industrial town of just under 5,500 people is Blue Mountain, a few miles from the Appalachian Trail, and Aquashicola Creek, which drains into the Lehigh River, used extensively for transporting the region's coal and a tributary of the Delaware River. As a result of the industrial activities that took place in Palmerton for more than 80 years, the town was left with an enormous smelting residue pile called the "Cinder Bank." The Cinder Bank is what is left of the 33 million tons of slag (rocky waste) left by the New Jersey Zinc Company as a byproduct of their mining operations. According to the U.S. Environmental Protection Agency (EPA), this pile extends for 2.5 miles and is over 100 feet high and 500 to 1000 feet wide. In addition, the smelting operations, a high-heat process that extracts metals from ore, released heavy metals, including cadmium, lead, and zinc, into the air and waters of the surrounding area. These activities killed off vegetation on 2,000 acres of Blue Mountain and allowed contaminants to flow into the Aquashicola Creek and Lehigh River. According to the EPA, children in this area tested over the years showed elevated levels of lead in their blood. Horses, cattle, and fish were also shown to contain contaminants. Because of a declining market for zinc and increased attention to hazards of environmental contamination, zinc smelting in Palmerton stopped in 1980. The Palmerton site was added to the Superfund National Priorities List on September 8, 1983. Cleanup of the town, Blue Mountain, and the Cinder Bank, overseen by U.S. EPA Region 3, has been going on since 1987. It has included activities such as grading, revegetation, cleaning of residences, cleanup of surface water, and water treatment.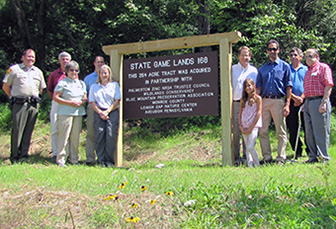 In August 2013, the Natural Resource Trustee Council members and guests celebrated the acquisition of more than 300 acres for state game lands and the Cherry Valley National Wildlife Refuge. (NOAA)
NOAA and other federal and state agencies, comprising the natural resource trustee council for this Superfund site, reached a settlement for damages to natural resources in 2009. Over $20 million in cash and property have been paid to compensate the United States and the Commonwealth of Pennsylvania for the natural resource damages to the Aquashicola Creek and Lehigh River watershed. Throughout this process, NOAA Office of Response and Restoration's Peter Knight and the National Marine Fisheries Services' John Catena have been providing scientific review and input on the environmental cleanup and restoration plans for this site. In August of 2013, the Palmerton Natural Resource Trustee Council and its partners announced the acquisition of more than 300 acres for state game lands and the Cherry Valley National Wildlife Refuge, home to the endangered bog turtle, and located just 30 minutes from Palmerton. Other properties designated for restoration include habitats along Aquashicola Creek and its tributaries. Acquiring and protecting these lands and waters are part of the larger restorative effort making up for the loss of both natural areas and their benefits due to Palmerton's mining activities. After many years of collaboration by a number of organizations and individuals, today the Lehigh River is popular with rafters and Blue Mountain is home to a lush 750 acre nature preserve and a 12 lift ski resort. According to its Chamber of Commerce, Palmerton is again a growing town and making incredible progress in moving beyond the once-tainted shadow of its history.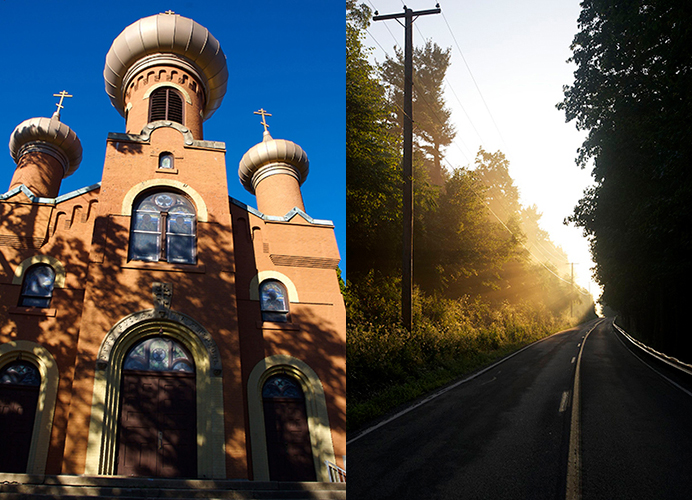 Left, Saints Peter & Paul Greek Catholic Church in Palmerton. During New Jersey Zinc's most productive years, many of the workers that settled in town came from Eastern Europe. The company designed the layout of the town to accommodate the growing population and is credited for its regular grid. (Michael Thompson/Creative Commons Attribution-NonCommercial-NoDerivs 2.0 Generic License) Right, outside of Palmerton, Fireline Road winds through a wooded landscape that is home to over 50 species of birds. (Andrew Wertz/Creative Commons Attribution-NonCommercial-NoDerivs 2.0 Generic License)
Agencies represented by the Palmerton Natural Resource Trustee Council include the U.S. Fish and Wildlife Service, National Park Service, National Oceanic and Atmospheric Administration (NOAA), Pennsylvania Game Commission, Pennsylvania Fish and Boat Commission, Pennsylvania Department of Environmental Protection, and the Pennsylvania Department of Conservation and Natural Resources. The Office of Response and Restoration represents NOAA on this council.