Removal Operations Continue for Navy Mine Ship on Philippine Coral Reef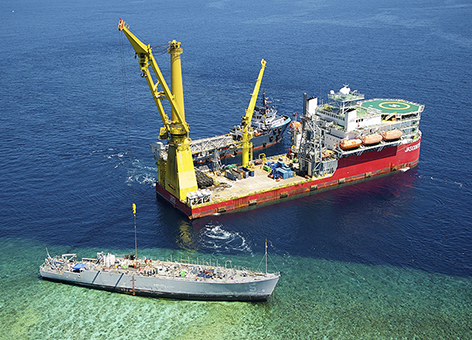 MARCH 29, 2013 -- In January, the Navy mine countermeasures ship USS Guardian ran aground on a coral reef in the Philippines, inside Tubbataha Reefs Natural Park.
The U.S. Navy removed the approximately 15,000 gallons of fuel aboard the ship and decided that the safest way to extract the Guardian from the reef was to deconstruct and carry it away in smaller sections.
Here are some interesting photos showing how the removal of the grounded "Ex-Guardian" (formerly USS Guardian) is progressing.
First, the superstructure (Wheelhouse and above deck structures) was removed as you can see in the top photo. Now the hull is being cut into sections and removed.
Earlier this week the bow section, weighing approximately 250 tons, was lifted off the reef and placed onto an awaiting barge (bottom photo).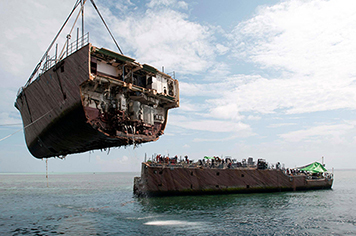 A crane vessel removes the bow of the mine countermeasure ship Ex-Guardian. The U.S. Navy and contracted salvage teams continue damage assessments and the removal of equipment and parts to prepare the grounded ship to be safely dismantled and removed from Tubbataha Reef. (U.S. Navy/Kelby Sanders)
The U.S. Navy has been working closely with the Philippine Coast Guard, Philippine Navy, and Tubbataha Reefs Natural Park during the process.
For more information on the removal operations, check out http://www.cpf.navy.mil/news.aspx/010081
You can also find out more about how NOAA works to protect and restore coral reefs after ship groundings in some of our previous NOAA blog posts:
With Tropical Storm Isaac's Passing, Crews Resume Cutting Apart Grounded Ship and Protecting Coral at Mona Island, Puerto Rico