Parts of the U.S. Government are closed. However, because the information this site provides is necessary to protect life and property, it will be updated and maintained during the Federal Government shutdown. For critical weather information, please visit
www.weather.gov
. To learn more, see
www.commerce.gov
.
Restoration to Begin after 2007 Oil Spill in San Francisco Bay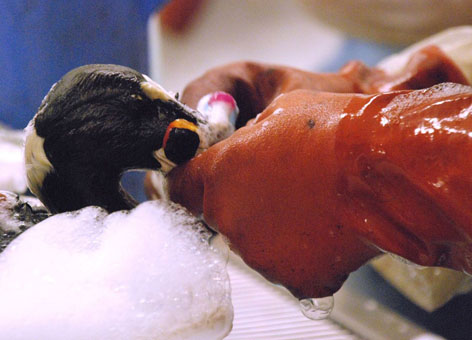 MARCH 16, 2012 -- In September 2011, NOAA and our partners reached a settlement for the 2007 M/V Cosco Busan oil spill, which dumped 53,000 gallons of oil into San Francisco Bay. Now, we are ready to start restoring the habitat and other natural resources that were affected by the spill.
After the settlement was reached, we asked for public comment on our restoration plan. We—along with our federal and state partners—revised the plan based on those comments. Now, we have a final restoration plan in hand and are ready to get to work.
The oil killed thousands of birds, impacted San Francisco Bay's 2008 herring spawn, oiled thousands of acres of shoreline habitat, and closed the Bay and area beaches to recreation and fishing. More than $32 million of the settlement funds will go toward restoration projects to address these impacts.
The projects include:
Habitat improvements at Muir Beach, Albany Beach, Aramburu Island, and South Bay Salt Ponds;
Creation and improvement of bird roosting and nesting habitat on the Berkeley Pier, Tule Lake, Farallon Islands, and South Bay Salt Ponds;
Eelgrass and oyster bed restoration at multiple sites around the Bay; and
Recreational use improvements throughout the spill area.
You can read the full Final Damage Assessment and Restoration Plan [PDF] for this spill, as well as the press release [PDF] outlining the plan.