Parts of the U.S. Government are closed. However, because the information this site provides is necessary to protect life and property, it will be updated and maintained during the Federal Government shutdown. For critical weather information, please visit
www.weather.gov
. To learn more, see
www.commerce.gov
.
With Skiff Found off Maui, NOAA and Partners Confirm Hawaii's Latest Reports of Japan Tsunami Marine Debris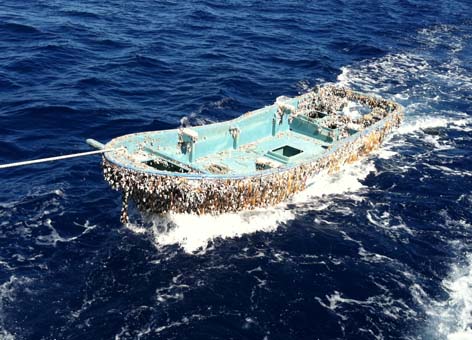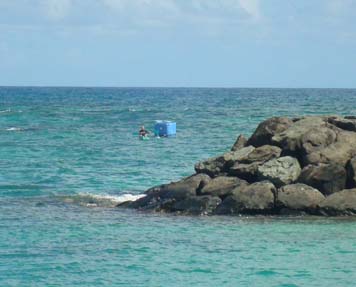 OCTOBER 6, 2012 -- On the heels of Hawaii's first confirmed report of Japan tsunami debris, NOAA and our partners are already examining the second confirmed item: a barnacled skiff which a fisherman found off the Hawaii coast—and which he wants to keep. Using the skiff's registration number, NOAA worked through the Japan Consulate in Hawaii to track down its owner, who expressed no interest in having it returned or in whom took possession of it. The Zephyr, a longline fishing vessel, discovered the 20-by-6-foot skiff approximately 700 nautical miles northeast of Maui and reported it to the U.S. Coast Guard on September 29. After cleaning the aquatic species from its hull, the crew took it aboard and arrived with it in Honolulu Harbor the morning of October 5. "We appreciate that this fisherman reached out to us and our partners at the Coast Guard and State of Hawaii to alert us of the skiff and determine appropriate measures to take," said Carey Morishige, NOAA's Marine Debris Program Pacific Islands regional coordinator. "Boaters are our eyes on the water and we need their help to be on the lookout for marine debris." State marine invasive species experts have already examined the skiff for signs of remaining aquatic life, especially those which may be invasive to Hawaii. Although no items connected to the 2011 Japan tsunami have shown above-normal radiation levels, out of an abundance of caution, state Department of Health officials also checked the boat for radiation. Just a few weeks ago, the first confirmed piece of Japan tsunami debris in Hawaii [PDF]—a blue seafood storage bin—showed up off the southeast coast of Oahu. The bin belonged to the Japanese seafood wholesaler Y.K. Suisan, Co., Ltd., whose offices were affected by the 2011 Japan tsunami. On the morning of September 18, personnel from Makai Ocean Engineering pointed out the buoyant blue container, which is used to transport seafood, near a pier on the southeastern shore of Oahu, and NOAA's Hawaii Undersea Research Laboratory fished the 4-by-4-foot box out of the water. While the lower, submerged portion of the bin was covered in gooseneck barnacles and crabs common in the open sea, a NOAA marine invertebrate scientist joined state aquatic invasive species experts in examining and confirming that none of the organisms were invasive. When the Hawaii Undersea Research Laboratory towed in the bin, they also found five Hawaiian red-footed boobies inside; three of which were dead, though two successfully managed to fly off.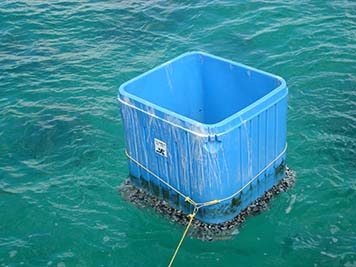 Because both the skiff and the seafood bin have unique identifying information, both items have been definitively traced back to Japan and confirmed as lost during the tsunami of March 2011. These items were confirmed with the assistance of the Japan Consulate in Honolulu and Government of Japan. However, the assorted flotsam which Hawaii residents have reported recently is often nearly impossible to connect to the tsunami. It includes everything from unusual light bulbs and a hard hat to plastic containers and pieces of Styrofoam. Marine debris is an everyday problem, and items like these have been known to wash up on Hawaiian shores long before the 2011 tsunami. While fishermen reportedly saw a floating concrete dock near the Main Hawaiian Islands, it has not been sighted again [PDF] since initial reports on September 19. In the meantime, NOAA has coordinated with the U.S. Coast Guard, State of Hawaii, and other agencies to prepare for its possible reappearance and support the state in its plan to deal with the dock before it makes landfall. The 30-by-50-foot dock appears similar to one that washed ashore in Oregon last June, which, when it arrived encrusted in sea life, prompted concerns about the possibility of aquatic invasive species from Japan. If this latest dock reappeared and proved to be a match, it would be the second of three docks reported missing from Japan following the March 2011 tsunami. However, despite aerial surveys by the U.S. Coast Guard and Hawaii's Department of Land and Natural Resources to identify the dock's location, no additional sightings have surfaced. NOAA's Office of Response and Restoration oceanographers have used our GNOME model to forecast the dock's possible movement using data on currents from the University of Hawaii's Regional Ocean Modeling System (ROMS) and wind forecasts from NOAA's National Weather Service. However, the accuracy of the model's predictions is unknown due to the lack of observational data on where the dock was traveling over time. In addition, NOAA has prepared two satellite tracking buoys for Hawaii to use in case the dock is relocated. Hawaii's Department of Land and Natural Resources, the state's lead agency for responding to possible Japan tsunami marine debris, is asking that boaters, fishers, and pilots keep an eye out for debris. If sighted, the agency says to call in reports immediately to 1.808.587.0400. The NOAA Marine Debris Program also is gathering sightings of potential Japan tsunami marine debris at DisasterDebris@noaa.gov. Find out what you should do if you think you have found marine debris from the Japan tsunami. Keep up with NOAA's latest efforts surrounding the issue of Japan tsunami marine debris at http://marinedebris.noaa.gov/tsunamidebris/.