Solid Returns: Response and Restoration Efforts Create Big Economic Benefits to Coastal Communities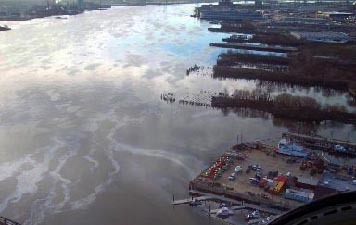 MARCH 7, 2012 -- Shortly after midnight on July 23, 2008, the tanker Tintomara collided with a tug and the barge it was transporting, near downtown New Orleans. The collision resulted in a spill of more than 9,000 barrels (380,000 gallons) of fuel oil near the mouth of the Mississippi River.
Within hours, NOAA's Office of Response and Restoration (OR&R) workers were on the scene, joining members of the U.S. Coast Guard and field staff from the State of Louisiana in efforts to contain the spill and limit the possible harm to humans and the environment.
To curtail the damage from spilled oil, the Mississippi River from New Orleans to the Gulf of Mexico was closed to vessel traffic, and water supplies to four parishes were temporarily halted. Without such immediate attention, the spill could have closed commercial fisheries, severely degraded wildlife habitats, and destroyed recreational opportunities — causing damages estimated in the millions of dollars.
"Among other things, it was our collective responsibility to ensure that the Mississippi River would remain open to commercial vessel traffic," NOAA oil spill expert Charlie Henry recalls. "As it turned out, the river was closed for only one day, followed by a few days of partial closures. Economists have estimated that a closure of the river could cost from $300 million to $700 million per day, depending on the level of commercial activity," he says.
Oil spills affect our natural resources in a variety of ways. They can directly impact our natural resources through, for example, the oiling of seabirds and marine mammals. They can diminish the ecological services provided by coastal and marine ecosystems, damaging or destroying critical nursery habitat for shrimp, juvenile salmon, and other wildlife. And they can affect how we use natural resources, limiting fishing, boating, beach-going, and wildlife viewing activities.
OR&R plays a pivotal role in ensuring that any such negative effects have been addressed, not only while a spill is occurring but also in the months after a spill has been contained. A large part of OR&R's mission is to guarantee that any losses are adequately compensated for. In the instance of the M/T Athos I oil spill on the Delaware River — an event that, in 2004, fouled 3,600 acres of shoreline and affected nearly 12,000 birds — the cost of restoring habitats was established at $27.5 million. With funds collected from the Athos I's owner, OR&R, along with state and federal partners, is now actively engaged in efforts to restore affected areas within the Delaware River watershed. These projects will benefit coastal communities and economies by improving habitat, providing green jobs during construction and creating new opportunities to enjoy the river and its wildlife.
"We try to take actions that reduce the impacts from a spill and that allow a more rapid recovery," says Tom Brosnan, environmental scientist and communications manager with OR&R. "We provide scientific expertise to various cleanup agencies before, during and after spills," he explains. "Once we've conducted injury studies in the field and the lab, we work with experts in NOAA's Restoration Center to choose the type and amount of restoration needed to offset any losses. Then, we work with our attorneys in the Office of General Counsel to require that responsible parties implement restoration projects or pay us to implement the restoration."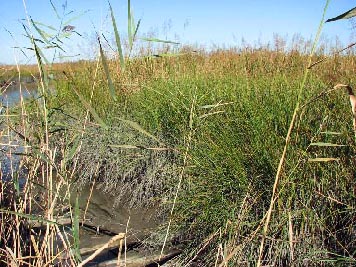 Marshland typical of the habitat damaged by the Athos I spill on the Delaware River. (NOAA)
The Tintomara and Athos I incidents were not unique for OR&R. This NOAA office exists as a center of expertise in preparing for, evaluating, and responding to threats to coastal environments, including oil and chemical spills, releases from hazardous waste sites, and marine debris. Since its creation in the 1990s, it has protected natural resources at more than 500 hazardous waste sites and responded to thousands of spills.
Through its diligence and countless hours of hard work, OR&R has recovered nearly $600 million for restoration of marshes, shorelines, oyster reefs, and other habitats that wildlife, fish, and people depend upon. Such projects also benefit coastal communities and economies by providing green construction jobs and creating new opportunities for outdoor recreation.
"It's the intent of the law to bring affected waters and damaged or destroyed trust resources, including habitats, back to their pre-injured conditions," says Perry Gayaldo, Deputy Chief of NOAA's Restoration Center. "But, whenever possible, we strive to go beyond that. Through our Community Based Restoration Program, we can look across the damaged landscape and target opportunities for enhancing certain features for public benefit. Working with environmental groups, the oil and gas industry, and partners like Ducks Unlimited, we've incorporated features for hunting, fishing, bird watching, boating, and other popular activities."
When an injury occurs, the majority of the costs of restoration are not on the taxpayers' shoulders, according to Gayaldo. Indeed, through such strategic partnerships with non-governmental organizations, tribes and local governments, the returns can be two to five times that of initial federal investments. In the United States, hunting and fishing industries are valued at approximately $80 billion per year. Thus, an investment in coastal restoration can significantly boost both regional and national economies, making NOAA a major force in shaping the future of our country.