Surveying What Hurricane Katrina Swept out to Sea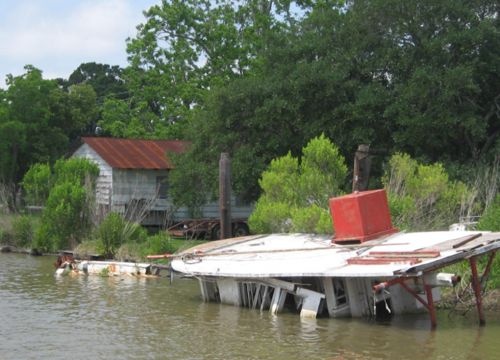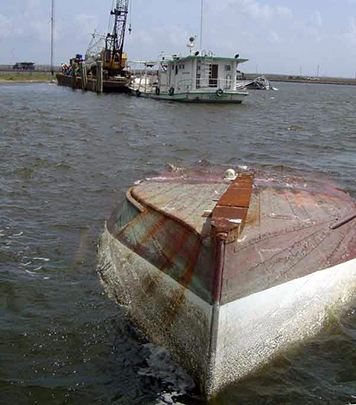 AUGUST 26, 2015 -- Hurricane Katrina was a powerful storm, one which brings a variety of powerful images to people's minds: The satellite image of the huge storm moving toward the Gulf Coast, the flooded neighborhoods of New Orleans, damaged boats strewn all over like discarded toys. But for Nir Barnea of NOAA's Marine Debris Program, the image he remembers most vividly is one of stairways leading to homes no longer there. Driving along Mississippi's Route 90 from Biloxi to Pass Christian on a hot August day in 2006, he saw dozens of them. They were the only remnants left of the beautiful beachfront houses that once lined that road, an area devastated by Hurricane Katrina's overwhelming storm surge.
Swept Away
The same massive storm surge that demolished these houses was the reason Barnea was in the region a year after Hurricane Katrina struck the Gulf Coast. The storm surge, over 25 feet high in places, destroyed houses and infrastructure, and when it receded, it washed out to sea massive amounts of what became marine debris. In the wake of Hurricane Katrina and less than a month later, Hurricane Rita, the marine debris in ports and navigation channels was cleared quickly. However, the remaining debris, outside of navigation channels and in fishing and boating areas, posed a safety hazard to people, damaged boats and fishing gear, and hampered recreation and commercial activities. To help deal with this debris, Congress appropriated funding in 2006 and again in 2007 to NOAA's Office of Coast Survey and Office of Response and Restoration to survey traditional fishing grounds, map items found, disseminate survey information to assist with removal, and inform the public. The project took three years. During the first phase, areas off the coast of Alabama, Mississippi, and eastern Louisiana were surveyed with side scan sonar. The survey teams generated maps of suspected underwater debris items (called "targets") and placed them on the Gulf of Mexico Marine Debris Project website. They also shared with the public the locations of debris items determined to be a danger to navigation. In the second phase of the project, the survey covered nearshore areas along the central and western Louisiana coastline. In addition to side scan sonar, survey teams used multi-beam survey technology for major targets, which is a powerful tool that provided vivid images of the objects detected. NOAA, Federal Emergency Management Agency (FEMA), U.S. Coast Guard, and the State of Louisiana collaborated closely to determine which targets were the result of Hurricanes Katrina or Rita and therefore eligible for removal. Many of the targets they detected were actually not the result of these two major storms.
Dealing with Disaster Debris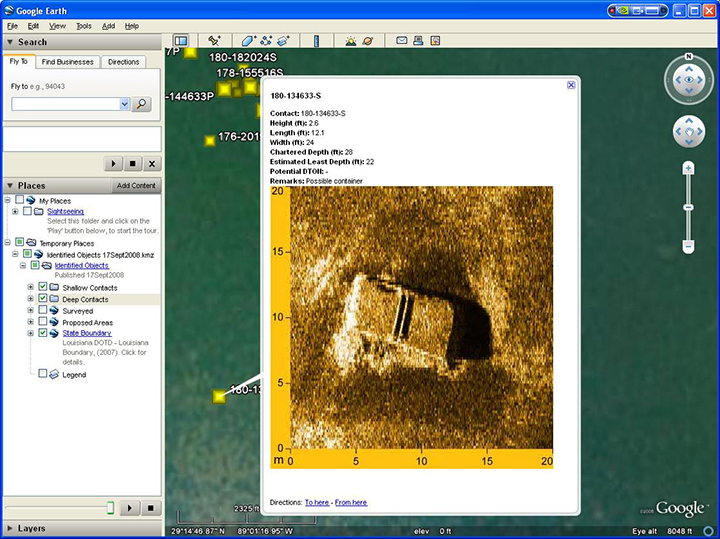 A side scan sonar image of a possible container off the Gulf Coast, 24 feet below the water surface. It could be a hazard to navigation. (NOAA)
On September 2, 2009, the project partners met in Baton Rouge, Louisiana, for a workshop summarizing the project. Participants provided insights and suggestions for improving the process, which were later gathered into the workshop proceedings [PDF]. We learned many lessons from this project, which should be put to good use in the future. One of the things NOAA's Barnea liked most about the project was its collaborative nature. Project partners included two NOAA offices and eight contractors, Coast Guard, FEMA, a host of state agencies from the three impacted states, NOAA Sea Grant, and of course, the general public in the Gulf of Mexico. This collaborative effort did not go unnoticed, and the project received the Gulf Guardian Award for Partnership. Hurricane Katrina was the first severe marine debris event for the young NOAA Marine Debris Program, established in 2005. It was not the last. Over the last 10 years, this program, along with other parts of NOAA, have dealt with marine debris from Hurricane Sandy, a tsunami in American Samoa, and most recently, the influx of debris from the Japan tsunami of 2011. Sadly, this trend suggests more such events in the future. NOAA and other agencies have learned a lot over the past 10 years, and are better prepared for the next disaster which might sweep debris out to sea or bring large amounts of it onto shore (what are known as "severe marine debris events"). Learn more at gulfofmexico.marinedebris.noaa.gov and marinedebris.noaa.gov/current-efforts/emergency-response.