Transforming Dusty Fields into Vibrant Salt Marshes in San Francisco Bay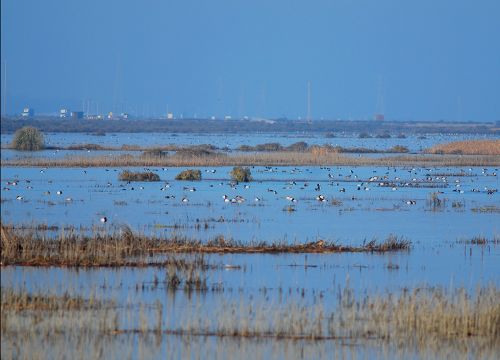 MAY 19, 2015 -- What happens when you fill a dry, dusty 1,200 acre field at the northern edge of San Francisco Bay with tide waters unseen in that place for more than a century? You get a marsh with a brand new lease on life. In January 2015, this is exactly what took place at the salt marsh restoration site called Cullinan Ranch (known as that due to its history as a hay farm). Check out the photos taken of the restoration site in November 2013, after the new boat ramp and wildlife viewing platform were built but before the levees holding back the bay were breached, and compare them with those taken in the same spot in January 2015, after the waters returned.
Left: In November of 2013, a view of the newly constructed boat ramp at the still-dry restoration site at Cullinan Ranch on the northern San Francisco Bay. (NOAA) Right: In January of 2015, a view of the boat ramp at the recently flooded restoration site at Cullinan Ranch. (Ducks Unlimited)
Brackish waters once again cover the low-lying area, long pushed down below sea level due to farming dating back to the 1880s. The presence of salt water has transformed this arid field into tidal wetland habitat, where birds, fish, and wildlife, such as the endangered Ridgway's rail, the salt marsh harvest mouse, steelhead, Chinook salmon, and other fish can thrive. According to Ducks Unlimited biologist Craig Garner, whose organization has been a key player in this site's restoration, "When the ranch was newly flooded, we saw a tremendous response by waterfowl. Large numbers of birds were recorded using the area, particularly Canvasback," a species of diving duck. Could it be that Cullinan Ranch provides California wildlife with a new refuge from the current scarcity of freshwater habitats further inland? Garner suggests, "Though it is tough to gauge without waterfowl survey data, I would say that Cullinan Ranch could be offsetting the effects of drought conditions on diving duck habitat at all" levels of the tidal cycle.

Left: In November of 2013, the wildlife viewing platform at the still-dry Cullinan Ranch restoration site doesn't offer many views yet. (NOAA) Right: In January of 2015, the same view after the marsh at Cullinan Ranch has been re-flooded. (Ducks Unlimited)
Of course, people will also be able to enjoy this transformation occurring at Cullinan Ranch via the new recreational facilities. (Launching your boat into a dry field probably wouldn't be much fun, after all.) But it's not just fun and games. People will benefit from this renewed salt marsh acting as a natural filter, increasing the quality of the water passing through it on the way to the bay and its fisheries, and as a sponge for moderating flooding during storms. The plant life growing in the marsh also serves to capture and hold excess carbon dioxide from the nearby urban areas. In addition, taking out the 19th-century levees holding out the bay's tides reduces the chances of a catastrophic failure and cuts out the expense of maintaining poorly built levees. Watch as the last satisfying scoops of the muddy barrier disappear and salty waters rush in: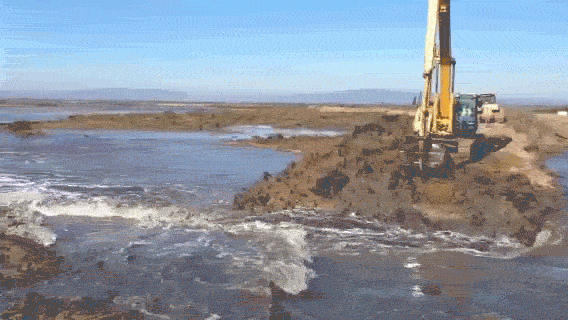 Taking out the first levee at the Cullinan Ranch marsh restoration project in central California in January 2015. (NOAA)
Learn more about the efforts to restore this tidal wetland and another long-dry area known as Breuner Marsh. Both of these restoration projects were made possible with funding from a natural resource damage assessment settlement paid by Chevron to make up for years of dumping mercury and oil pollution from its Richmond, California, refinery into the shallow waters of nearby Castro Cove. NOAA partnered with the U.S. Fish and Wildlife Service and the California Department of Fish and Wildlife to achieve the 2010 Chevron settlement and contribute to these two important restoration projects. In the fall of 2014, Breuner Marsh also saw the return of its daily infusion of saltwater and is looking more and more like a natural salt marsh and less like the next site of urban development.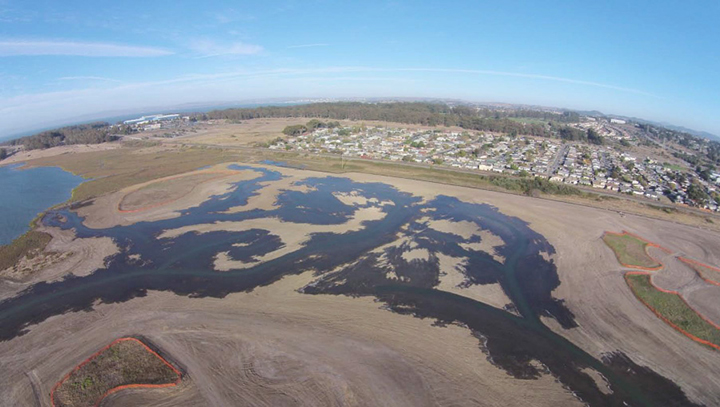 An aerial view of the tide waters retaking their normal course at the restoration site Breuner Marsh on San Francisco Bay in the fall of 2014. (Castro Cove Natural Resource Damage Trustees)