Back to top
A Trip to the Arctic, Where Shrinking Ice Is Creating Bigger Concerns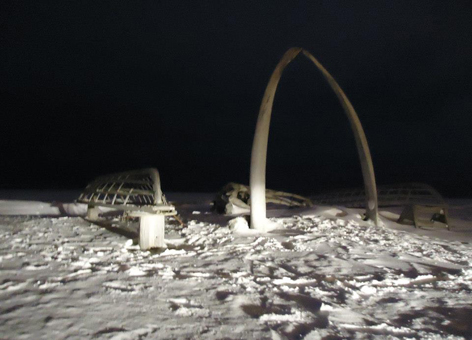 DECEMBER 3, 2012 -- In early November, several Office of Response and Restoration staff returned to the Arctic for a workshop, this time to the northern hub of Barrow, Alaska.
They came to Barrow with the same intentions as an earlier visit to the Arctic and the city of Kotzebue, Alaska: to discuss oil spill response and restoration issues with the residents of the North Slope Borough.
As a result of climate change, the Arctic environment is changing rapidly, and the retreat of sea ice in the Arctic Ocean opens new doors for human activity in the region by creating new paths to places previously inaccessible. The all-but-certain increases in ship traffic and offshore oil and gas exploration are setting up a situation where the likelihood of oil spills increases drastically.
The goals of this two-day workshop in the Arctic revolved around community involvement in responding to oil spills and in assessing and restoring resulting damages to natural resources. The workshop also included discussions about how to integrate local community and traditional knowledge into our new Arctic planning and response tool, the Environmental Response Management Application (Arctic ERMA®).
Most importantly, the workshop was an opportunity to enhance relationships between local communities and government agencies.
During the course of the meeting, community members from Barrow expressed their concerns about oil spill response capabilities and how a spill would affect their subsistence lifestyle. It was humbling to hear whaling captains and other residents speak about the remarkably unique natural resources of the Arctic.
During meeting breaks they spoke with several residents who commented on a video playing in the lobby of the meeting center. The video showed numerous local walrus and whale hunts. The residents pointed out features of the ice and how they always had to be prepared at a moment's notice to deal with the changing ice conditions.
How can we restore environments injured by spilled oil in an amazing setting like this—vast, remote, and mostly undeveloped? While there are no easy answers, we must work together now so we are better prepared if an oil spill occurs and we need to restore the environment.
For NOAA and other government personnel to figure out how much an oil spill has hurt Arctic marine environments and then fix them, we will require the help of local residents who hold generations of knowledge about the landscape. Workshops like these can be an introduction to each other, but we really look forward to sustaining these relationships.
Want to hear more about the challenge of Arctic oil spill response and restoration from the perspectives of Arctic residents? Recently a workshop report from our spring meeting in Kotzebue [PDF] has been released.
Staff from our office also just returned from Kotzebue where they attended a meeting about a new project to map subsistence use of natural resources (e.g., hunting, fishing, etc.) in the Northwest Arctic Borough.