Parts of the U.S. Government are closed. However, because the information this site provides is necessary to protect life and property, it will be updated and maintained during the Federal Government shutdown. For critical weather information, please visit
www.weather.gov
. To learn more, see
www.commerce.gov
.
Using the Almighty Dollar, NOAA Marine Debris Program Empowers Groups to Keep Coasts Clean
NOVEMBER 7, 2013 -- The U.S. has a long and winding shoreline—95,471 miles of it—extending into bays, inlets, and the Great Lakes. This massive scale creates a challenge just as big to keep trash and other debris off our shores and out of our coastal waters. Fortunately, the NOAA Marine Debris Program uses the power of funding to put much-needed dollars into the hands of worthy community groups, non-governmental organizations, tribes, local government agencies, and universities working to address marine debris in their areas. In addition to funding projects like these, the NOAA Marine Debris Program coordinates, strengthens, and promotes marine debris activities within NOAA and among its partners and the public through regional coordination, research, outreach, and education.
Earlier this year, we awarded $967,000 to 11 removal projects ranging from Alaska to Puerto Rico. Some focus on abandoned vessels and fishing gear, while other projects aim to sweep plastics, Styrofoam, and other consumer debris from beaches and sea turtle nesting sites. One innovative project in North Carolina establishes a pilot program to encourage commercial fishers to collect derelict crab pots from surrounding waters so they can be transformed into artificial reefs, creating habitat for oysters. The NOAA Marine Debris Blog reports that "through this program, NOAA has funded 76 marine debris removal projects and removed more than 3,800 metric tons of marine debris from our oceans and Great Lakes since 2006."
Yet the easiest way to clean up marine debris is to keep it from getting into the water in the first place. This is why the NOAA Marine Debris Program also awards grants for outreach and education efforts to prevent marine debris. In 2013, we provided $949,512 to eight groups across the country to develop hands-on education materials and activities, curricula, workshops, and museum displays, as well to three scientific organizations to research the interactions of microplastics with the marine environment.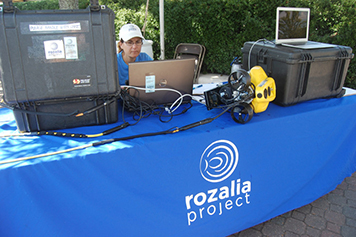 The Rozalia Project sets up dockside education programs and raises awareness about marine debris with their yellow ROV, "Hector the Collector." (The Rozalia Project)
The Rozalia Project for a Clean Ocean received one of these education grants, which they will use to support their traveling dockside education programs featuring "Hector the Collector." Hector is a small, yellow remotely operated vehicle that dives in harbors searching for and gathering marine debris with its headlights, sonar, camera, and gripper claw. In addition to educational activities surrounding Hector, the Rozalia Project organizes beach cleanups, with aspirations of picking up 500,000 pieces of debris this year. The projects funded through the NOAA Marine Debris Program typically last between one and two years but produce lasting benefits to the environment, fish and wildlife, and communities they serve. To learn more about the NOAA Marine Debris Program's efforts to remove and prevent marine debris, head to marinedebris.noaa.gov.