What Is the Current State of Arctic Sea Ice and What's in Store?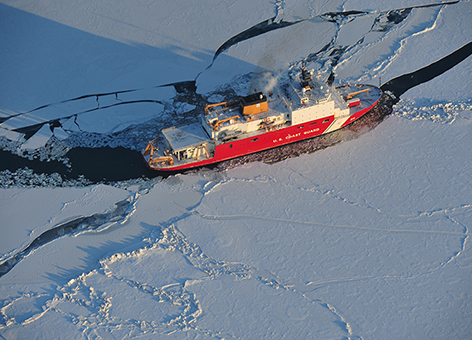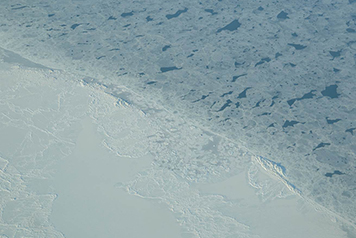 This is a post by Samantha Guidon, Constituent and Legislative Affairs Intern with NOAA's Office of Response and Restoration. AUGUST 6, 2013 -- A look at the Arctic region uncovers many hot-button issues: climate change, energy extraction, and cultural impacts, just to name a few—all in a remote area with a harsh environment. Recently, I received a crash course and status update on the Arctic's disappearing sea ice at the 5th Symposium on the Impacts of an Ice-Diminishing Arctic on Naval and Maritime Operations. Co-hosted by the United States National/Naval Ice Center and the U.S. Arctic Research Commission, the conference brought together key stakeholders for information sharing and discussion. Two facts were apparent over the course of the three-day conference: (1) sea ice in the Arctic is shrinking—more rapidly than scientists originally predicted, and (2) "ships" will be essential to the future of the Arctic. NOAA Research Oceanographer Dr. Jim Overland predicted that the Arctic will most likely be functionally ice free in the summer by 2050, at the latest; however, he agreed with others that it may happen even sooner. Rear Admiral Jonathan W. White, Navy Oceanographer and Navigator and Director of the Task Force on Climate Change, set his prediction at 2022, which may be plausible given that all of the older ice in the region has already melted. And, currently, the oldest ice in the Arctic is a mere three years old, according to Dr. Ignatius Rigor of the International Arctic Buoy Program. Regardless of when it happens, the Arctic will be ice-free at some point within our lifetimes, a reality that comes with the potential to alter significantly business and life in the region and across the globe. It is because of these implications that three kinds of "ships" will play a key role in the region's future: icebreaking or ice-capable ships, partnerships, and chairmanship.
Wanted: Ships
The United States currently has only one icebreaker, the U.S. Coast Guard Cutter Healy, which is mission-ready for the Arctic. Yet transit—via maritime commerce, tourism, and energy exploration—within and through the Arctic will increase, whether or not there are enough ice-capable ships able to assist them in an emergency. This fact raised questions about U.S. ship capabilities, especially because icebergs will still be around and posing risks even without historical sea ice levels. While the U.S. does have a strong Arctic maritime presence, there is plenty of room to increase that presence in the future. As part of the U.S. Coast Guard's "Arctic Shield" drill this September, NOAA's Office of Response and Restoration (OR&R) will be participating in an oil spill training exercise on the icebreaker Healy in Alaska. During the exercise, they will test possible spill response techniques and tools, including a new version of NOAA's Arctic ERMA, an online mapping tool that brings together, visualizes, and shares key data from NOAA and its partners in a centralized, easy-to-use format during an environmental response scenario. Developed by OR&R through its partnership with the Bureau of Safety and Environmental Enforcement, this new "Standalone ERMA" has been adapted for use by responders in a remote command post, vessel, or other areas with limited or no internet connection. In addition, the Coast Guard is preparing a second icebreaker, Polar Star, which should be ready for work in November and would give the United States two functioning icebreakers.
Partnerships Are Key
The need for partnerships (interagency, national, indigenous, and international), especially in an area so vast during a time with limited resources, was another key theme. One successful partnership brought up was the Memorandum of Understanding between NOAA and Shell to share data in the Arctic, demonstrating how government and industry can work together effectively. An area where there could be strengthened partnerships and better forms of communication is in working more closely with indigenous peoples to incorporate and use traditional knowledge in Arctic emergency planning, which OR&R's Dr. Amy Merten mentioned in her talk on Arctic ERMA.
Chairmanship of the Arctic Council
Chairmanship of the Arctic Council was also on everyone's mind. Canada just assumed chairmanship in 2013 and the United States is on deck for 2015, which will result in four years of North American chairmanship. Julia Gourley, U.S. Senior Arctic Official at the Department of State, discussed the desire to communicate and work with Canada in order to accomplish both of the countries' goals and manage the Arctic to the best of their abilities. However, several questions arose out of the Arctic Council discussion, including: When chairmanship moves away from North America, will the priorities shift? The Arctic Council does not have any authority for governance; will this be a problem in the future? Agreements between Arctic Council nations on oil spill response and search and rescue are great ideas in theory, but how will they be implemented during an actual emergency? This may be a compelling reason for supporting the United Nations Convention on the Law of the Sea, which, according to the U.N., extends "international law to the vast, shared water resources of our planet," and under whose provisions the U.S. Navy and Coast Guard already operate, though the U.S. has not yet ratified it.
How Will the U.S. Move Ahead?
Some concerns about the U.S. status in the Arctic stem from having only one functioning ice breaker, the USCG Cutter Healy. However, Rear Admiral White referenced the fact that our country is still in transition from a nation with an Arctic state to an Arctic nation. Other Arctic nations have needed additional resources for quite some time because they have always relied on the area for trade. However, within the United States, attention on the Arctic is still a relatively new phenomenon to non-Alaskans, so it may take more time to gain the status of some of the other Arctic nations. President Barack Obama released his National Strategy for the Arctic Region in May 2013, which outlines an overall plan for the Arctic region, focusing on security, stewardship, and partnerships. There are at least 10 other reports from federal agencies, including the Coast Guard, NOAA, U.S. Arctic Research Commission, and the Interagency Arctic Research Policy Committee, also outlining their own Arctic strategies and policy recommendations, making it difficult to identify a common direction when moving forward in the Arctic region. Because of this, I am composing a report for NOAA's Office of Response and Restoration that will examine all of these plans and policy recommendations and identify a key policy that is common among the reports in order to suggest a priority for implementation. Learn more about our work in the Arctic, from oil spill response support to marine debris removal.