Parts of the U.S. Government are closed. However, because the information this site provides is necessary to protect life and property, it will be updated and maintained during the Federal Government shutdown. For critical weather information, please visit
www.weather.gov
. To learn more, see
www.commerce.gov
.
What NOAA Does for the Beaches of Brigantine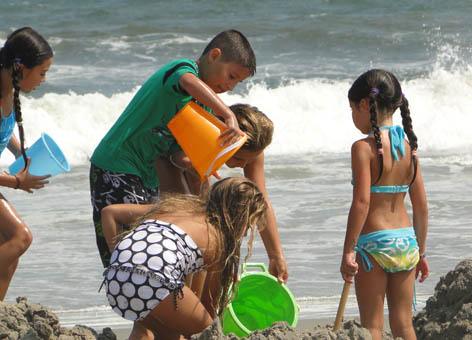 This is a post by Vicki Loe, Communications Coordinator for the Office of Response and Restoration. JULY 27, 2012 -- Imagine your first trip to the ocean: walking along a sandy beach, listening to the sounds of waves and shorebirds, appreciating the smell of salt in the wind. I was surprised to read recently that beaches only gained popularity as places to relax and enjoy during the past century. Before that, according to author John Gillis, the coast was associated with ship wrecks, danger, and the hard labor accompanying fishing and maritime industry. This trend changed when beaches became more accessible, and people began to see the shore as a refuge and even "sanctuary."
I still return to the same beach in Brigantine, New Jersey, which I visited every year as a child. I am happy to say that, in spite of the increased residential development of that island, it seems not much has changed since I started vacationing there in the 1960s. However, the future of our beaches is uncertain when faced with threats such as climate change and sea level rise, severe hurricanes, overdevelopment, oil spills, and marine debris. With all of this in mind during my annual visit there last week, I looked at the Jersey shore with new eyes. I realized how appreciative I am of the work that NOAA and other organizations do to preserve our beaches so that future generations can continue to enjoy them the way I have been able to. Brigantine is only one of the many small ocean communities that generations of Americans look forward to visiting along our coasts each year. It is a barrier island just north of Atlantic City. Settled in 1890, it is now home to nearly 9,500 residents. The island is less than seven miles long, with the entire northern third of the island devoted to a wildlife refuge.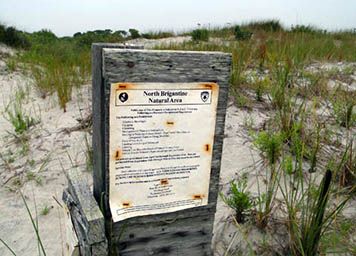 Uninhabited by humans, the refuge is composed of sand dunes, maritime forest, and tidal marsh. During the summer visitors can see a variety of endangered birds, including Piping Plover, Black Skimmer, American Oystercatcher, and Least Tern. When I was there last September, I watched a pod of bottlenose dolphins playing near the shore. That was shortly after Hurricane Irene made landfall near Brigantine on the morning of August 28, causing significant beach erosion and flooding. In the developed area to the south, most of the beaches are guarded during the day in the summer to keep swimmers safe. In the evenings, after people have gone home with their umbrellas and beach chairs, the remainder surf, fish, and walk the beach. Boating and recreational fishing are a big part of life on the bay side of the island. What does NOAA do to protect coastal areas like this around the country? The National Weather Service provides valuable information on weather conditions, including severe weather warnings. Recently, they helped guide the development of a smartphone application that gives the U.S. Coast Guard, beach lifeguards, and researchers a way to report and receive up-to-date warnings on dangerous rip currents, which have been a particular problem for swimmers this past year.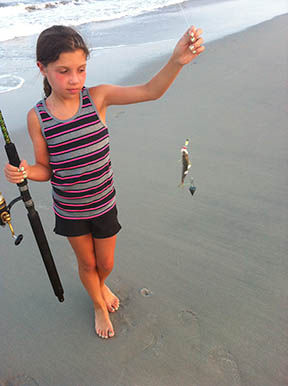 NOAA also provides nautical charts for the coastal waterways surrounding islands like Brigantine to ensure safe navigation for commercial and recreational boating and fishing as well as commercial shipping. NOAA's Office of Response and Restoration works closely with the U.S. Environmental Protection Agency on hazardous waste sites in coastal areas to protect human health and minimize damage to NOAA marine resources. When an accident or hazardous substance release occurs, NOAA's Damage Assessment, Remediation, and Restoration Program works to assess injury and implements rehabilitation and restoration. Additionally, the Office of Response and Restoration has customized an online mapping tool called ERMA® (Environmental Response Management Application) for this part of the Atlantic coast. ERMA integrates data such as ship locations, weather, and ocean currents, in a centralized, easy-to-use format for environmental responders and decision makers. This tool would be especially valuable in the case of an oil spill, for example. The NOAA Marine Debris Program provides education on the harm caused by man-made litter polluting the ocean and coasts. Even this year, beaches not far from Brigantine reported sightings of medical waste washing up near the shore. The program also provides valuable information to fishers on the proper disposal of monofilament fishing line, which can entangle and injure birds and other wildlife.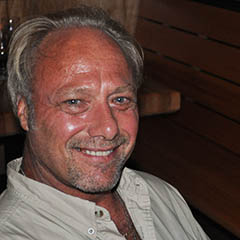 Through a partnership with NOAA's National Marine Fisheries Service, the Marine Mammal Stranding Center (based on Brigantine) responds to marine mammals and turtles in distress along all of New Jersey's waterways and oversees their rehabilitation and release back into the wild. Frank Csulak is a good example of one of the many individuals who has devoted his career to the preservation of our coastal resources. Csulak is NOAA's Scientific Support Coordinator and has worked for the Office of Response and Restoration in New Jersey for years. Raised on the New Jersey shore, he is the primary scientific advisor to the U.S. Coast Guard for oil and chemical spill planning and response in the area. Through his tireless work, he helps reduce the influence of pollution on the waterways and shores of the Mid-Atlantic states. So, the next time you visit the Jersey shore, you can thank Frank Csulak, NOAA, and our many partners for delivering another beautiful day at the beach.