Back to top
What Restoration Is in Store for Massachusetts and Rhode Island after 2003 Bouchard Barge 120 Oil Spill?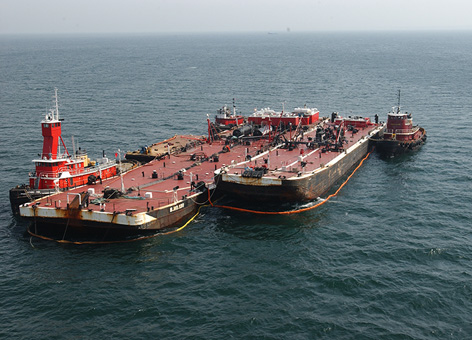 FEBRUARY 18, 2014 -- The Natural Resource Damages Trustee Council for the Bouchard Barge 120 oil spill have released a draft restoration plan (RP) and environmental assessment (EA) [PDF] for shoreline, aquatic, and recreational use resources impacted by the 2003 spill in Massachusetts and Rhode Island. It is the second of three anticipated plans to restore natural resources injured and uses affected by the 98,000-gallon spill that oiled roughly 100 miles of shoreline in Buzzards Bay. A $6 million natural resource damages settlement with the Bouchard Transportation Co., Inc. is funding development and implementation of restoration, with $4,827,393 awarded to restore shoreline and aquatic resources and lost recreational uses. The draft plan evaluates alternatives to restore resources in the following categories of injuries resulting from the spill:
Shoreline resources, including tidal marshes, sand beaches, rocky coast, and gravel and boulder shorelines;
Aquatic resources, including benthic organisms such as American lobster, bivalves, and their habitats, and finfish such as river herring and their habitats; and
Lost uses, including public coastal access, recreational shell-fishing, and recreational boating.
The plan considers various alternatives to restore these resources and recommends funding for more than 20 projects throughout Buzzards Bay in Massachusetts and Rhode Island. Shoreline and aquatic habitats are proposed to be restored at Round Hill Marsh and Allens Pond Marsh in Dartmouth, as well as in the Weweantic River in Wareham. Populations of shellfish, including quahog, bay scallop, and oyster will be enhanced through transplanting and seeding programs in numerous towns in both states. These shellfish restoration areas will be managed to improve recreational shell-fishing opportunities. Public access opportunities will be created through a variety of projects, including trail improvements at several coastal parks, amenities for universal access, a handicapped accessible fishing platform in Fairhaven, Mass., and acquisition of additional land to increase the Nasketucket Bay State Reservation in Fairhaven and Mattapoisett. New and improved public boat ramps are proposed for Clarks Cove in Dartmouth and for Onset Harbor in Wareham.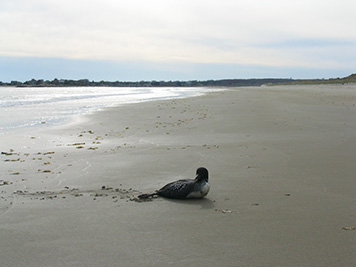 An oiled loon on Horseneck Beach. Approximately 450 birds were immediately killed by the oil spill, including loons, scoters, mergansers, oyster catchers, terns, common eiders, and piping plovers. (NOAA)
The draft plan also identifies Tier 2 preferred projects; these are projects that may be funded, if settlement funds remain following the selection and implementation of Tier 1 and/or other restoration projects that will be identified in the Final RP/EA to be prepared and released by the Trustee Council following receipt and consideration of input from the public. "We continue to make progress, together with our federal and state partners, in restoring this bay and estuary where I have spent so much of my life," said John Bullard, National Oceanic and Atmospheric Administration (NOAA) Fisheries Northeast Regional administrator. "And, we're eager to hear what members of the public think of the ideas in this plan, which are intended to further this work. We hope to improve habitats like salt marshes and eelgrass beds in the bay. These will benefit river herring, shellfish and other species and support recreational activities for the thousands of people who use the bay." The public is invited to review the Draft RP/EA and submit comments during a 45-day period, extending through Sunday, March 23, 2014. The electronic version of this Draft RP/EA document is available for public review at the following website: http://www.darrp.noaa.gov/northeast/buzzard/index.html Comments on the Draft RP/EA should be submitted in writing to: NOAA Restoration Center Attention: Buzzards Bay RP/EA Review Coordinator 28 Tarzwell Drive Narragansett, R.I. 02882 BuzzardsBay.RP.EA.Review@noaa.gov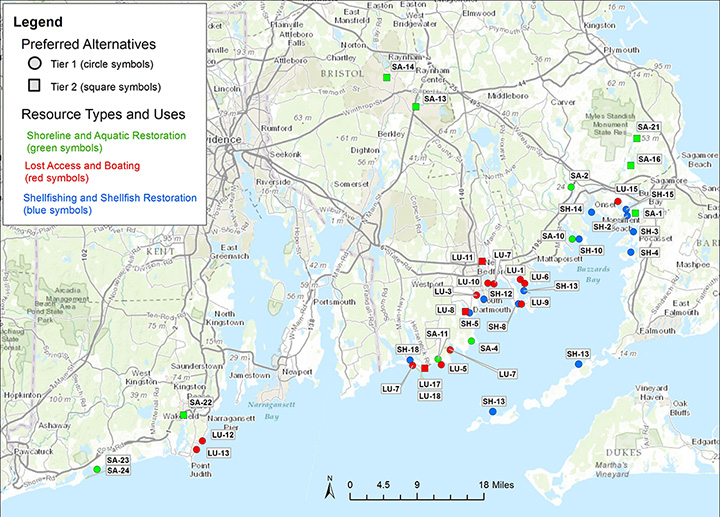 A map of the preferred restoration projects for the Bouchard Barge 120 spill, as identified in the second draft restoration plan. (NOAA)