Parts of the U.S. Government are closed. However, because the information this site provides is necessary to protect life and property, it will be updated and maintained during the Federal Government shutdown. For critical weather information, please visit
www.weather.gov
. To learn more, see
www.commerce.gov
.
When the North Cape Ran Aground off Rhode Island, an Unexpected Career Took Off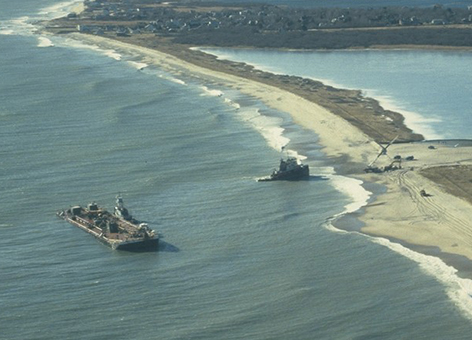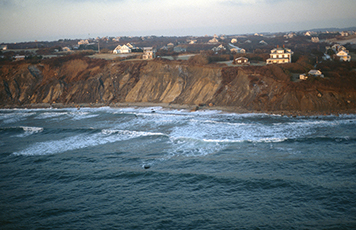 JANUARY 17, 2014 -- January 19, 1996 was a Friday. At the time, Kate Clark, now the Office of Response and Restoration's Acting Chief of Staff, was a senior at the University of Rhode Island, pursuing an ocean engineering degree. She had no idea what she would do with it once she got it, but she loved the ocean, she had a tuition waiver since her dad taught there, and they had a well-known engineering program. She was living with roommates "down the line" in the fishing village of Point Judith in Narragansett, R.I. When she and her friends returned home from a night out, it was the usual weather she was accustomed to during a coastal Rhode Island winter storm: foggy, rainy, and windy. But what Clark was not accustomed to was the nauseating smell of gasoline in the air and the helicopter traffic overhead.
Nudist Beach to Oiled Wreck
Clark woke on January 20 to the news that a ship had run aground, roughly four miles east on Moonstone Beach in South Kingstown. Being Rhode Island–born and Rhode Island–bred (as the fight song goes), she was all too familiar with Moonstone Beach, so called for the numerous ocean-polished silicate rocks that lined the beach. This town beach where she grew up was idyllic for families because the shallow, warm salt ponds that sat right behind the thin strip of sandy beach were perfect for young kids. As a child she spent long summer days there combing the beach for shells and jellyfish. However, other sections of Moonstone Beach were well known throughout the 1970s and 1980s as a popular nudist beach. When public access to Moonstone Beach was closed by the U.S. Fish and Wildlife Service in 1988 to save habitat for endangered least tern and piping plover, it shut down the East Coast's last fully staffed oceanic nudist beach. The tank-barge that grounded on Moonstone Beach during that harsh winter storm in 1996 was called the North Cape. Its hull ripped open and spilled 828,000 gallons of home heating oil into the pounding surf. That strong smell of oil in the air around the southern shores of South Kingstown and Narragansett was soon replaced by the stench of rotting crustaceans, shellfish, and starfish that died from the oil and washed up in droves along the beaches of Block Island Sound.
Left, oil breaches the salt ponds on Moonstone Beach at Point Judith, R.I. in February 1996. Right, the leaking barge North Cape released oil into Block Island Sound in two separate releases. (NOAA)
In the weeks that followed, the local fishing and lobstering economy was brought to its knees as 250 square miles of Block Island Sound was closed to fishing. Families she had grown up with and classmates who went to work fishing after high school struggled to make ends meet.
Lessons for Life
During the spring of 1996, Clark was in need of a topic for her required senior project. At that time, the chair of the Ocean Engineering Department was interested in using media reports and other sources to do a hindcast investigation (like a forecast but after the fact) into the reported volume of oil spilled. She worked on it for several months that spring and became extremely familiar with the details of the incident. Ultimately, the project was a non-starter and she moved on to a different project. (If you're doing the math, yes, it took her more than four years to graduate).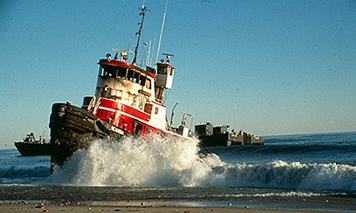 While she did this research, she knew nothing about oil spill response or assessing damages to natural resources, but the seed was planted. One thing Clark learned was that the North Cape spill was unique in the way the heavy surf thoroughly mixed the spilling oil into the water column, pounded it into the substrate, and ultimately carried it offshore to deliver a staggering blow to Block Island Sound's thriving bottom-dwelling sea life. Once she joined the work force after graduation, it seems all roads led back to oil spill preparedness, response, and restoration. It began with planting eel grass with funds from the World Prodigy oil spill and continued with consulting on containment and spill prevention for the Department of Defense. As Clark was finishing up graduate school at Louisiana State University, she came across a job opportunity to work for NOAA's Office of Response and Restoration (OR&R) conducting Natural Resource Damage Assessments along the Gulf Coast. That was 12 years ago and she has worked at OR&R ever since.
An Environment for Success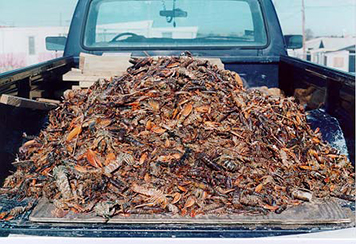 Dead lobsters collected from Rhode Island beaches after the North Cape oil spill, which killed 9 million lobsters. (Rhode Island Department of Environmental Management)
The environmental damages from the North Cape oil spill resulted in $7.8 million for restoration along Rhode Island's coast, which went to lobster and shellfish restoration, seabird and piping plover habitat protection, water quality improvements, and recreational fishing enhancements. The success of these projects required innovation, teamwork, and perseverance on the behalf of federal and state trustees, local officials, fishermen, and the public. The last of the successful restoration projects wrapped up well after Kate Clark started working for OR&R. She was pleased to be involved at times in this damage assessment and restoration work, though certainly not as involved as many of my colleagues. Still, it felt as though she had come full circle. The North Cape oil spill that devastated a local community and its natural resources 18 years ago this month set the course for her career. As the Grateful Dead song goes, "Once in a while you get shown the light. In the strangest of places if you look at it right."