Back to top
When Vegetable Oil Coats Local Birds, One NOAA Staffer Swaps Computer Software for Rubber Gloves and Soapy Water
This is a post by the Office of Response and Restoration's Valerie Chu.
DECEMBER 1, 2015 -- While I work for a part of NOAA that responds to oil and chemical spills, I'm normally behind the scenes.
My job is to check if the computer software programs run properly so that they can do things like predict the impacts of pollution on aquatic species.
But a recent and unusual vegetable oil spill in my own backyard brought me to the front lines for the first time.
While food-based oils don't tend to be as toxic as petroleum-based oils, they can still harm wildlife in a number of ways, such as coating feathers or fur and destroying the insulating properties that keep animals warm in aquatic environments.
An accidental spill of cooking oil in Seattle, Washington, ended up affecting dozens of ducks and geese in a neighborhood pond. The oiled birds are being treated at PAWS Wildlife Center in Lynnwood, Washington, with a group called Focus Wildlife International providing treatment to these birds.

Left, responders collected spilled vegetable oil in an area where it was easier to remove from the Seattle pond. November 7, 2015. Right, when birds get oil on their feathers, it destroys the insulating properties of the feathers and their ability to stay warm. These Canada geese were preening their feathers to try to remove the vegetable oil. (Copyright:
Washington State Department of Ecology
)
That's how I got involved with this spill, even though NOAA is not involved with this spill response. I'm a volunteer Wildlife Care Assistant at PAWS and have been volunteering there for about two years. The primary goal at PAWS is to rehabilitate sick, injured, and orphaned wildlife and then release them back into the wild. They care for more than 260 species, ranging from eagles and chickadees to seals and bears. Saturday, November 21, 2015 was my first time volunteering with oiled wildlife.
As I learned, the process of washing each oiled bird involves multiple washing tubs, a rinsing station, warm water, and lots of Dawn dish soap. I was assigned several tasks to help with the washing. First, I had to give the oiled birds eye drops to help protect their eyes from the soap. In addition, I dumped washing tubs after they were used, refilled the tubs with warm water, and cleaned the enclosure containing some of the oiled birds.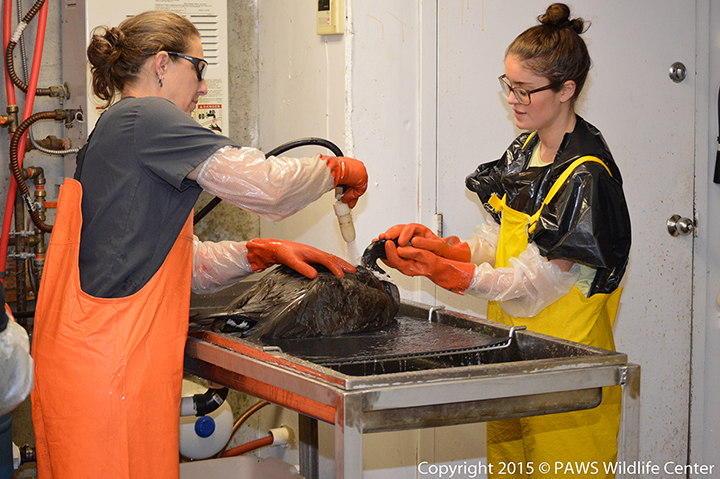 Each oiled bird is carefully washed and rinsed multiple times to remove oil from its feathers. (Copyright: PAWS Wildlife Center)
Interestingly, I also recorded the start and end times of washing and rinsing for each bird. The washing and rinsing process times varied with the birds' cooperation, as well as the degree of oiling. If there was an uncooperative bird, then the process would definitely take longer. In total, I volunteered for four hours and helped wash vegetable oil off of two Canada geese.
Overall, it was really fulfilling for me to help wash birds affected by this spill because it combined my career in spill response software with my hobby of caring for wildlife. Spending my Saturday washing oiled birds was absolutely worthwhile for me, giving me first-hand experience with what it is like to care for animals affected by an oil spill.
And more than ever, this experience has encouraged me to continue developing software tools for spill response and volunteering with oiled wildlife.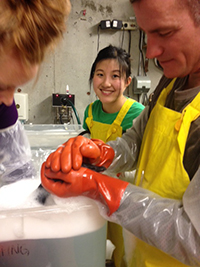 Valerie Chu, at center, volunteers with PAWS to help clean oiled birds in Seattle, Washington.
Valerie Chu is an Environmental Scientist who has been providing support for the Office of Response and Restoration's Emergency Response Division software projects since 2012, when she obtained her undergraduate degree in Environmental Science and Resource Management and then started working with NOAA and Genwest. During her spare time, she volunteers with animal welfare-related causes such as PAWS and Zazu's House Parrot Sanctuary.