Parts of the U.S. Government are closed. However, because the information this site provides is necessary to protect life and property, it will be updated and maintained during the Federal Government shutdown. For critical weather information, please visit
www.weather.gov
. To learn more, see
www.commerce.gov
.
Wildlife Webcams Bring NOAA Restoration Projects Live to You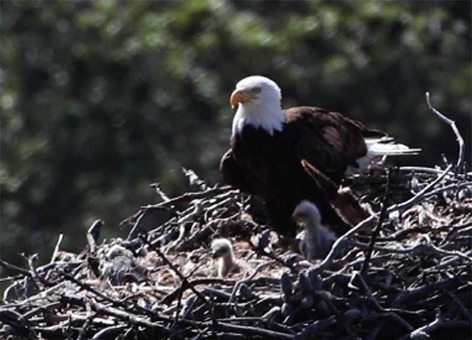 APRIL 30, 2013 -- We want you to take a bird's eye view of restoration with our wildlife webcams. In 2006, NOAA's Montrose Settlements Restoration Program, established to make up for a toxic DDT and PCB legacy in southern California, installed a live webcam with a close-up view of the first Bald Eagle nest to hatch a chick naturally on California's Santa Cruz Island in over 50 years. Thousands watched as the eagle parents tended to their chick, affectionately named "Princess Cruz" by webcam watchers. Today, there are a total of five webcams on other nests around the California Channel Islands, highlighting the success of our Bald Eagle Restoration Program. We also wanted to connect the public to the underwater world of wetlands with an underwater fish webcam. In 2010, our program installed a live webcam in Huntington Beach wetlands, where we completed one of our fish habitat restoration projects. This underwater camera demonstrates the importance of wetlands as a fish nursery and feeding area.
What is cute and cuddly and has wings? You guessed it ... a Bald Eagle chick. What is even better is that you can watch these adorable birds on live webcams that are placed near Bald Eagle nests located on Catalina and Santa Cruz Islands in the California Channel Islands right now. Viewers can watch daily as both male and female adults attend to their chicks by feeding them and keeping them warm. One of the most popular nests to watch is the West End nest on Catalina Island that has triplets for the third year in a row. For eagle enthusiasts, there is a Channel Islands Eaglecam discussion forum where you can post or read daily nest observations, chat with other enthusiasts, or read updates from the Bald Eagle restoration team. With over 1 million hits each year, the Bald Eagle webcams have captivated audiences all over the world from January to June as these regal birds raise their young.
If you are more interested in what lurks beneath the ocean then you should check out the live fish webcam that is broadcast from Talbert Marsh in the Huntington Beach wetlands. Since the fish webcam has been live, we have observed over 20 species of fish, diving seabirds, an octopus, nudibranchs (colorful sea slugs), and numerous other cool invertebrates. We have also seen fish spawning events, territorial displays of fish, and even sharks. If you want to let us know what you have seen on our webcam, you can fill out our online fish webcam observation sheet. In case our solar-powered camera is down, you can check out this 10 minute clip recorded from the webcam for a snapshot of what you might normally see. The eelgrass swaying side to side is mesmerizing and you can always catch a glimpse of a fish when you log onto the fish webcam. Test your fish identification skills now! This is a post by Gabrielle Dorr, NOAA/Montrose Settlements Restoration Program Outreach Coordinator.