Back to top
Atlantic ERMA
The Atlantic coastal environment faces many threats, including pollution from hazardous waste sites, accidents involving crude oil trains, and oil spills associated with marine transportation. The online mapping tool Atlantic ERMA is a key part of equipping resource managers and responders with the geographic information they need for an effective industrial waste site case, emergency response, or for future restoration activities.
Emergency Response
In the event of an oil spill or hurricane, ERMA integrates previously collected base data with near real-time incident data to provide a quick visualization of resources at risk and on-the-ground conditions. This common operational picture of an environmental incident facilitates communication and coordination among responders and environmental stakeholders, whether on-scene or back at their agency headquarters.
In the fall of 2012, Atlantic ERMA was put to the test during the aftermath of Hurricane Sandy. ERMA provided field teams and responders with the most current information to facilitate assessment and cleanup of hundreds of hazardous waste containers and small vessels flung along the coast by the storm.
Large storms like Hurricane Sandy create significant amounts of debris that end up in waterways and can cause safety and environmental issues. View a gallery of before-and-after photos from the Sandy response as seen through Atlantic ERMA. To plan for similar events in the Atlantic region, we are working to show in ERMA which authorities that responders should coordinate with, depending on the location of the debris.
Atlantic ERMA is not just limited to the immediate coastal regions. We are collaborating with EPA Region 2 to incorporate the inland Geographic Response Plans for New York and New Jersey into Atlantic ERMA, so that natural resources can be best protected in the event of oil-by-rail or pipeline incidents.
Restoring Habitat
Atlantic ERMA provides environmental quality and monitoring data for coastal areas affected by industrial pollution, such as the Anacostia River, Hudson River, and Newark Bay. Our scientists use this information as part of the Natural Resource Damage Assessment (NRDA) process to evaluate injuries to the environment caused by pollution, as well as to plan habitat restoration. NOAA relies on Atlantic ERMA to evaluate natural resource injuries and plan restoration at many pollution sites, including:
Partners Atlantic ERMA was developed by NOAA and the University of New Hampshire with assistance from the U.S. Environmental Protection Agency, U.S. Coast Guard, and U.S. Department of the Interior.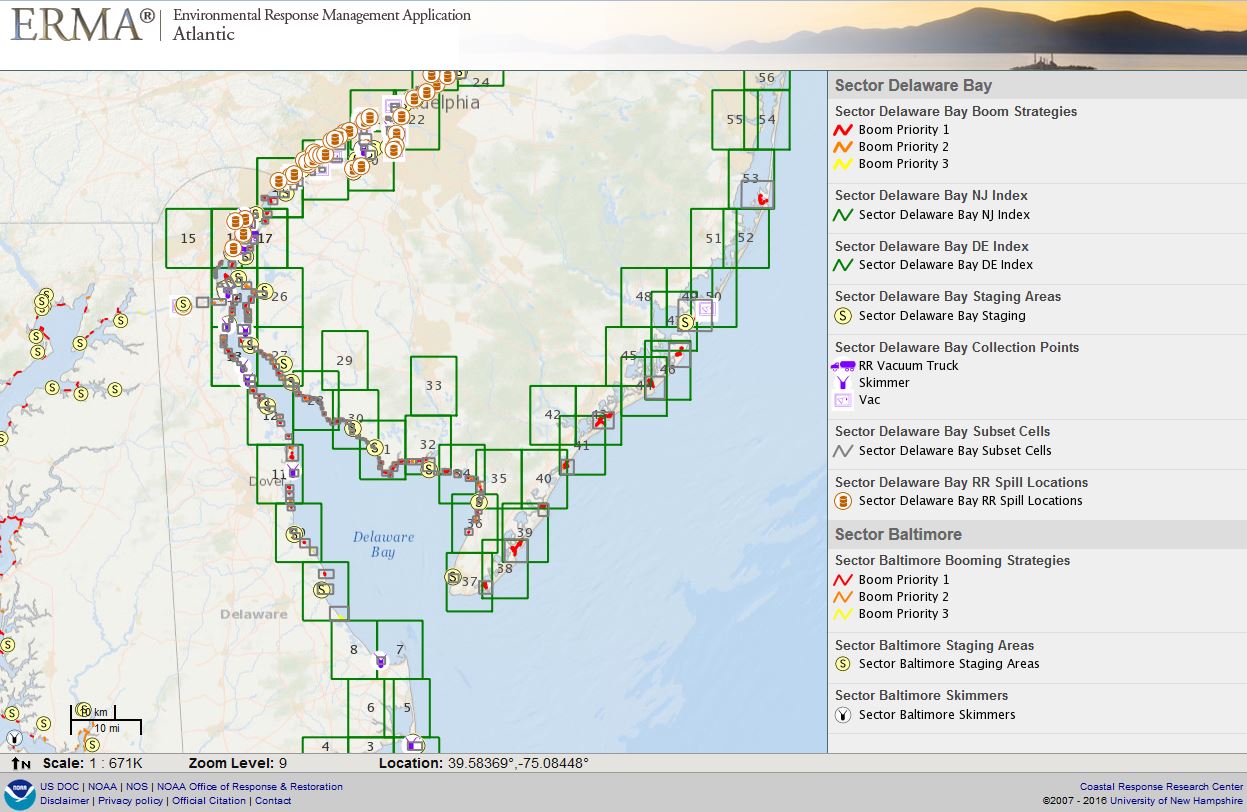 Geographic Response Plans for USCG Sector Delaware Bay.