Back to top
Disaster Preparedness Program Provides NOAA-Specific Incident Command System Course in Charleston, South Carolina
MAY 6, 2019 — During April 23-25, trainers from the Disaster Preparedness Program (DPP) and Genwest Systems Inc. provided the NOAA-specific Incident Command System 300 course in Charleston, South Carolina.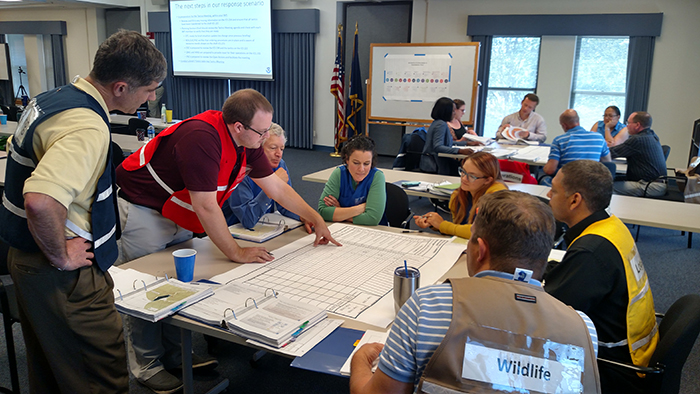 This is just one of the collaborative preparedness efforts between DPP and the Southeast and Caribbean Regional Collaboration Team this year. Twenty students from across NOAA offices, including the National Ocean Service, National Weather Service, National Marine Fisheries Service, and Oceanic and Atmospheric Research, as well as a few close partners from the South Carolina Department of Health and Environmental Control Ocean & Coastal Resource Management and the Guana Tolomato Matanzas National Estuarine Research Reserve attended the three-day course.
Throughout the course, students learned about the National Incident Management System, the Incident Command System, NOAA authorities and responsibilities during emergencies, and the NOAA Concept of Operations Plan. The students also had an opportunity to participate in an exercise at the end of each day developed to reinforce the day's material.
The DPP provides this NOAA-specific training twice during each fiscal year. Although this was the final offering for FY19, the DPP will provide two more opportunities during FY20.
For further information or to request this training in your area, contact Kimberly.Albins@noaa.gov.