Back to top
Earth Day Plastic Pollution Panel at the Federal Energy Regulatory Commission in D.C.
MAY 18, 2018 — On April 24, the Marine Debris Program participated in a Plastic Pollution Panel at an Earth Day event held at the Federal Energy Regulatory Commission (FERC) in Washington, DC.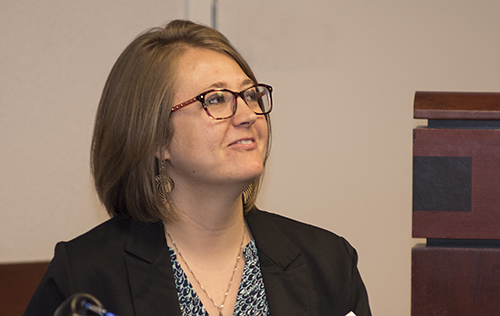 Commissioner Richard Glick kicked off the Eighth Annual Earth Week observance at the FERC, by sharing some general thoughts about Earth Day and highlighting green initiatives at FERC. Following the open remarks by Commissioner Glick, Carlie Herring, Research Coordinator with the Marine Debris Program, gave a presentation on the environmental impacts of plastic marine debris. Dr. Maricel Maffini, a consultant for the Environmental Defense Fund, then spoke about the human impacts associated with plastics. The event wrapped up with a panel discussion on plastic pollution and ways to reduce our dependence on plastics in the metro-DC area. The event was open to FERC employees and organized by a FERC Employee Resource Group, Greener FERC.
For more information, contact Carlie.Herring@noaa.gov.