Back to top
Eckerd College and Congressman Charlie Crist Kick Off a New NOAA Marine Debris Prevention Grant
AUG. 31, 2018 — On Aug. 27, Eckerd College welcomed the NOAA Marine Debris Program's Charles Grisafi and special guest Congressman Charlie Crist (FL-13) to its St. Petersburg, Florida campus to celebrate Eckerd's newly awarded Marine Debris Prevention Grant with Eckerd college students and staff.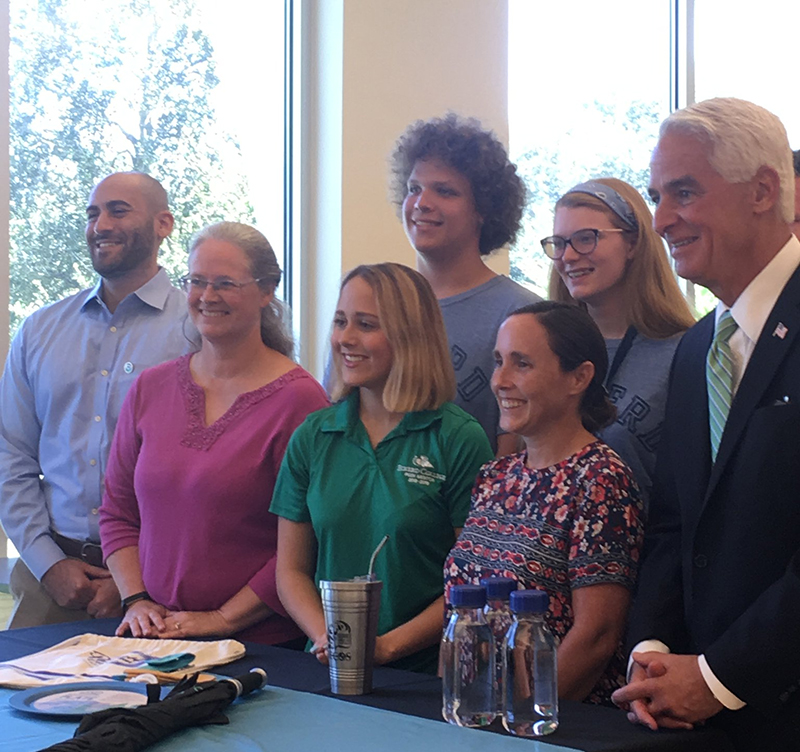 The NOAA Marine Debris Program recently announced the 23 recipients of its 2018 prevention and removal grant awards totaling approximately $2.5 million in federal funds. One of the recipients of a prevention grant award is Eckerd College, located in St. Petersburg. Through this grant, Eckerd College will strive to reduce consumption of single-use plastics across its college campus by educating students on marine debris, providing access to alternatives to common debris items (e.g. reusable water bottles and bamboo utensils), and working with the college administration to institute campus-wide prevention and reduction initiatives.  
During the kickoff, Grisafi met with the president of Eckerd College and Congressman Crist to discuss the Marine Debris Program's competitive grant process and successful implementation of grant initiatives. Grisafi and the congressman also met with Eckerd staff, professors, and students participating in activities supported by NOAA's grant. Professors and staff discussed specific funded initiatives including the development of three undergraduate courses on plastic marine debris, and the replacement of 10 traditional water fountains with bottle-filling stations. Students enrolled in one of the new plastic marine debris courses shared what they have learned about plastic debris in the ocean, and discussed results of an assessment they completed about their own single-use plastic consumption. The students were surprised by their daily usage of single-use plastics and pledged to reduce their consumption. Through initiatives like this, Eckerd College hopes to encourage all students, faculty, and staff to reduce single-use plastic consumption across campus.
For further information, contact Charles.Grisafi@noaa.gov.