Back to top
Emergency Response Training at the Disaster Response Center
JUNE 15, 2018 — During the week of June 3, staff from OR&R's Emergency Response Division met at the NOAA Disaster Response Center in Mobile, Alabama, to conduct safety and response science training.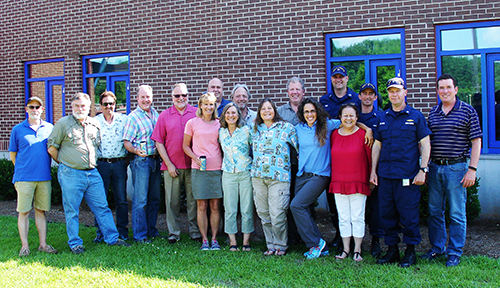 NOAA Scientific Support Coordinators from across the country, along with home team staff, discussed topics ranging from remote sensing of spills to dispersant testing and monitoring, to reviewing the support activities provided during the 2017 hurricane season. As part of the dispersant monitoring training, the group worked jointly with the U.S. Coast Guard (USCG) National Strike Force to collect field data then transfer it for data management, interpretation, and display. The team also worked with the USCG's Aviation training facility in Mobile to recertify staff for life raft and helicopter underwater egress training.
For more information contact Doug.Helton@noaa.gov or John.Tarpley@noaa.gov.