Back to top
Indonesian Delegation at NOAA for Marine Debris Talks
MARCH 2, 2018 — On February 23, delegates from Indonesia gathered at the NOAA Silver Spring campus to hear about NOAA activities.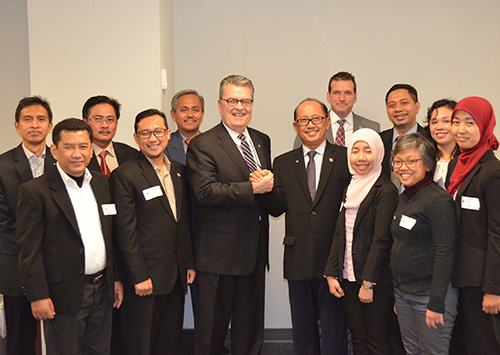 The group traveled here as part of a US Trade and Development Agency (USTDA) Reverse Trade Mission for Marine Observation Infrastructure and Forecasting Technology. They heard from several speakers representing different parts of NOAA about what efforts are being made in the United States and how these efforts could translate to Indonesia. 
They also learned about NOAA's marine debris efforts from Krista Stegemann, a representative from the NOAA Marine Debris Program (MDP. She briefed the delegation on the global marine debris issue, what efforts are underway in the United States through the MDP, as well as the MDP's international efforts and work with Indonesia. As a country significantly impacted by marine debris, Indonesia has taken several steps to address this problem and recently developed a Marine Debris Action Plan, for which the MDP is providing technical expertise. This briefing was a follow-up to a visit to Indonesia made by MDP staff member, Nir Barnea, in August 2017.
For more information, contact Krista.E.Stegemann@noaa.gov or Nir.Barnea@noaa.gov.