Back to top
Inland Oil Spill Training along California's American River
MAY 18, 2018 — OR&R's Emergency Response Division assisted the U.S. Fish and Wildlife Service's National Conservation Training Center (NCTC) in providing inland oil spill training in the American River watershed.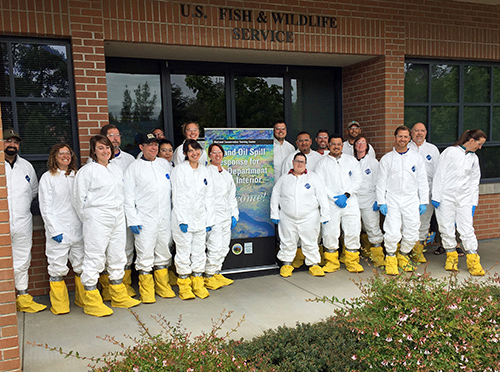 This class, held the week of May 14, is the eighteenth inland spill training that NCTC has conducted across the country since 2015, incorporating inland spill elements pertinent to natural resource managers with varying degrees of spill experience. Participants came from the Department of Interior (DOI), including the U.S. Fish and Wildlife Service; National Park Service; Bureau of Indian Affairs; Bureau of Reclamation; and Bureau of Land Management; U.S. Geological Survey; U.S. Forest Service as well as California's Office of Spill Prevention and Response. Emphasis was on planning for and participating in multi-agency inland responses led by the Environmental Protection Agency (EPA). A wide variety of topics covered include DOI and EPA roles during spills, basic Incident Command System (ICS), Area Contingency Plans, Natural Resource Damage Assessment (NRDA), response coordination, health and safety, wildlife operations, oil fingerprinting and toxicology, field sampling, resources at risk, shoreline cleanup assessment technique (SCAT), and emerging risks that may threaten the unique resources along the American River corridor. 
OR&R contributed an overview of NOAA's Scientific Support roles, detection and removal of submerged oil spills, and assisted with classroom and field exercises.
 For additional information, contact Jordan Stout.