Back to top
Last Vessel Salvaged from U.S. Virgin Islands as part of Hurricane Support Operations
FEB. 23, 2018 — Operations for the Hurricane Maria Emergency Support Function #10 (ESF-10) U.S. Virgin Islands (USVI) response were completed yesterday, Feb. 21, 2018.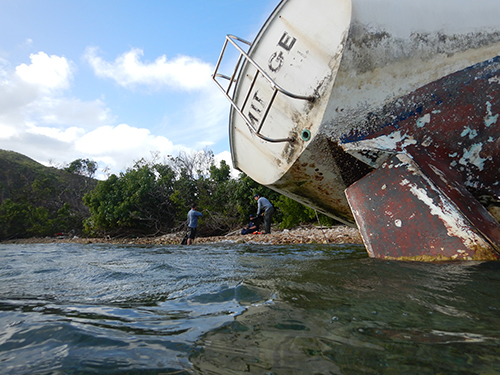 Under the ESF-10 USVI response, pollution mitigation, displaced vessel salvage, and orphan container recovery operations were conducted across the nearshore waters and shorelines of St. Thomas, St. John, and St. Croix in the U.S. Virgin Islands. To date, the response addressed pollution mitigation and salvage/recovery for 479 displaced vessels and 3,668 orphaned containers, propane cylinders, marine batteries, and other hazardous materials.
Emergency Support Function 10 (ESF 10) comes from the National Response Framework. There are 15 ESFs.  The ESFs provide the structure for coordinating federal interagency support for a federal response to an incident.  They are mechanisms for grouping functions most frequently used to provide federal support to ftates and federal-to-federal support, both for declared disasters and emergencies under the Stafford Act and for non-Stafford Act incidents.
NOAA personnel were engaged in many facets of the response from immediate post storm assessment of NOAA's National Geodetic Survey (NGS) high-resolution imagery to identify pollution targets, through onsite technical assistance in assessment and development of techniques to minimize impacts to sensitive resources from vessel recovery actions.  All ESF-10 USVI response operations were conducted according to environmental best management practices developed by NOAA and U.S. Fish and Wildlife Service in coordination with National Marine Fisheries Service and the U.S. Department of Interior, including those aimed at avoiding and minimizing impacts to endangered species and critical habitats. Best management practices were followed with exceptionally few minor deviations, which were either required for operational purposes (with environmental monitoring oversight and minimization) or were due to inadvertent, infrequent, and relatively minor mishaps that are not atypical under emergency response conditions. 
In total, NOAA's OR&R and the Restoration Center personnel under the USVI Environmental Unit relocated approximately 400 coral colonies in association with the response. There were no impacts to endangered sea turtles, other endangered species, or marine mammals under the response.
NOAA contributed more than 2,000 hours of collective on scene support during the response.
For further information, contact Adam.Davis@noaa.gov.