Back to top
Marine Debris Program and Northeast Partners Conduct Multi-beach Cleanup across Northern Massachusetts
JULY 27, 2018 — On Sunday, July 15, the Marine Debris Program joined a multi-beach cleanup across Northern Massachusetts organized by Salem Sound Coastwatch.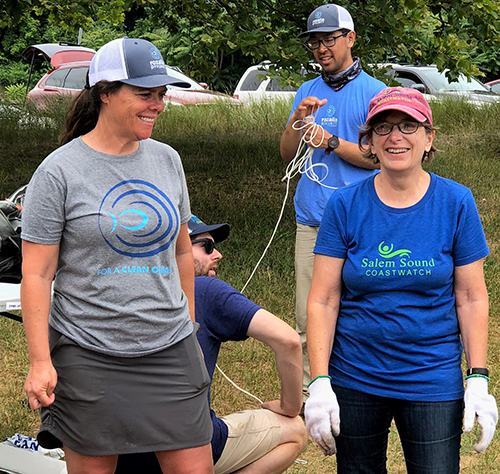 The cleanup included a public sorting session led by the crew from Rozalia Project. A group of dedicated volunteers collected trash on several different beaches from Cape Ann to Nahant and worked together to record the items found. The Marine Debris Program's Northeast Regional Coordinator, Demi Fox, contributed trash collected from Long Beach in Gloucester and spoke with the other volunteers sorting debris that morning.
In just one hour, the team removed 4,824 pieces of debris from eight beaches.
This month, while Rozalia's oceanographic research vessel, American Promise, was docked in Salem, the Rozalia team and Salem Sound Coastwatch joined together to offer two days of educational programs. They held a teacher workshop and an "Open Boat", with over 100 people attending a tour and presentation that followed at a local brewery. The goal of this collaboration was to educate the community about the problem of marine debris, demonstrate how it is directly impacting the coast of Massachusetts, and provide a call to action. 
Ashley Sullivan, Executive Director of the Rozalia Project, observed that, "we can all affect change through our own behavior, participating in clean ups with data, sharing what we know with friends and family, and working to create structural changes in our communities that promote healthier oceans."
For more information, please contact Demi.Fox@noaa.gov.