Back to top
Marine Debris Program Celebrates with Communities on World Oceans Day
JUNE 22, 2018 — On June 8 and 10, regional coordinators for NOAA's Marine Debris Program (MDP) joined communities around the world to celebrate and honor our ocean, and raise public awareness around marine debris.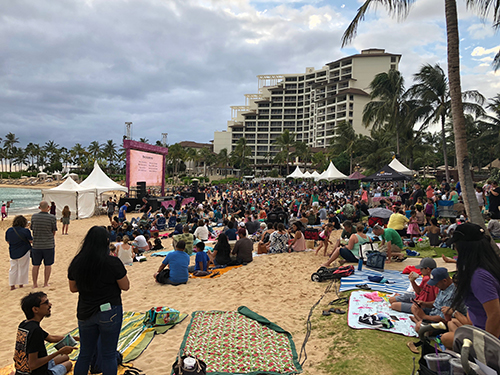 This year's focus on preventing plastic pollution provided a valuable opportunity to highlight how combating marine debris can meaningfully improve ocean health.
In the Northeast, Demi Fox joined other NOAA representatives at the New England Aquarium's celebration and public outreach event. In the Pacific Northwest, Nir Barnea participated in NOAA's open house event in Seattle, which included campus tours, brief topic presentations, and booths representing different offices. In the Gulf of Mexico region, Charles Grisalfi staffed an outreach booth at the Dauphin Island Estuarium. And in the Pacific Islands region, Mark Manuel and Shanelle Naone joined other NOAA representatives as co-hosts of a large celebration at the Ko Olina Resort in Kapolei, Hawaii.
NOAA representation at the Hawaii celebration included OR&R's MDP, Papahānaumokuākea Marine National Monument, Office of Coastal Management, Pacific Islands Fisheries Science Center, Office of Law Enforcement, Pacific Island Regional Office, NOAA Corps, and Hawaii Islands Humpback National Marine Sanctuary. Hundreds of attendees gathered along the beach to take part in ocean education, sustainability activities, and the Hawaiian language movie premiere of Disney's Moana. As part of its outreach, the Marine Debris Program engaged families in an educational recycling game and discussion around individual actions we can all take to address this global issue.  
For more information, contact Shanelle.Naone@noaa.gov or Lindsey.Palardy@noaa.gov.