Back to top
Marine Debris Program Highlights Citizen Science Project at Asia Oceania Geosciences Society Conference
JUNE 22, 2018 — On June 6, the NOAA Marine Debris Program's (MDP) Pacific Islands Regional Coordinator, Mark Manuel, gave a presentation within the session, "Marine Debris – From management to microplastics" at the 15th annual Asia Oceania Geosciences Society (AOGS) conference in Honolulu, Hawaii.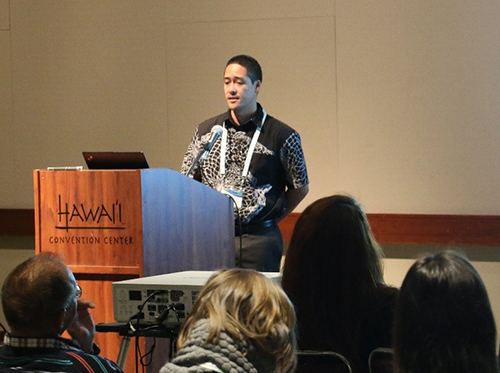 His talk titled, "The NOAA Marine Debris Monitoring and Assessment Project: Four years of effort in the U.S. Pacific States," provided an overview of the development, methodology, and preliminary results of the nOAA Marine Debris Program's citizen science program launched in 2012.
AOGS was established in 2003 to promote geosciences and its application for the benefit of humanity, specifically in Asia and Oceania, and with an overarching approach to global issues. The Asia-Oceania region is particularly vulnerable to natural hazards, accounting for almost 80% human lives lost globally. AOGS is deeply involved in addressing hazard-related issues by improving our understanding of the genesis of hazards through scientific, social, and technical approaches.
For more information, please contact Mark.Manuel@noaa.gov.