Back to top
Marine Debris Program Introduces New Outreach Tools
NOVEMBER 17, 2017 — The NOAA Marine Debris Program (MDP) recently debuted a new outreach tool—a wooden, tabletop plinko game.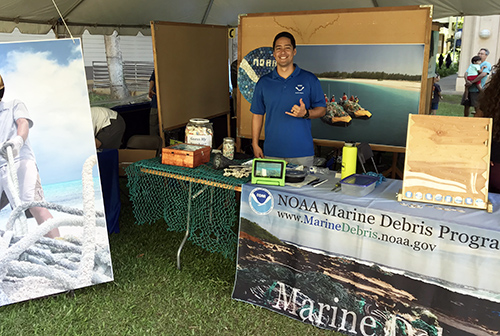 This new resource is meant for use by MDP staff to help engage audiences at outreach events in the marine debris discussion. The game is equipped with several game pieces, each with a graphic image of a common debris item. The player drops their chosen piece from the top of the game, watching it find its way to the bottom of the board, which is decorated with several options of where a debris item may end up—the garbage can, recycling bin, stream, beach, storm drain, or other water body. As participants work to get their piece into the proper space, MDP staff are able to discuss where these items should ideally go. Participants are asked to consider: which items can be recycled in their region and which ones should be placed into the trash can or how could a debris item end up in our environment?
Outreach tools such as these enable the MDP to engage audiences in an interactive, fun, and non-threatening way, while talking about marine debris and educating the public about its impacts and the simple things we can all do to prevent the debris from entering the ocean and Great Lakes in the first place.
For additional information, please contact: Krista.E.Stegemann@noaa.gov.