Back to top
Marine Debris Program Participates in the Inaugural Tampa Bay Ghost Trap Rodeo
NOVEMBER 2, 2018 — On October 27, Charles Grisafi, Florida and Caribbean Regional Coordinator for the NOAA Marine Debris Program, participated in the first-ever Ghost Trap Rodeo event at Fort De Soto Park in Tierra Verde, Florida.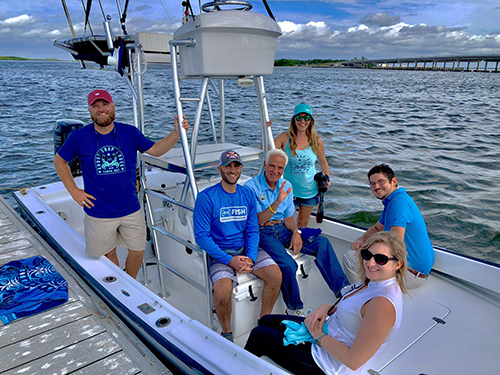 The Ghost Trap Rodeo event series is supported with a MDP community-based marine debris removal grant awarded to Ocean Aid 360, in partnership with the Coastal Conservation Association Florida. The Ghost Trap Rodeo event series is comprised of six weekend-long marine debris removal competitions throughout the Tampa Bay estuary. The events are organized like shallow water fishing tournaments, but instead of weighing in fish, event participants weigh in abandoned crab traps, fishing gear, and other forms of marine debris, with a chance at winning industry sponsored prizes.  
The first event was a huge success. Special guest Congressman Charlie Crist (FL -13th congressional district) kicked off the Rodeo by providing opening remarks and words of encouragement for event participants. The Congressman even joined one of the competing vessels to help search for derelict crab traps in Tampa Bay. Over 35 boaters, anglers, and industry representatives from the local community participated, and a total of ten vessels competed. Collectively, these vessels removed over 1,400 pounds of derelict crab traps and other forms of marine debris!
The Ghost Trap Rodeo was a great way for local community members to join together and contribute to the conservation of a cherished waterbody. The next event in the Ghost Trap Rodeo series will be held in the Manatee River on November 24.
For more information, contact Charles.Grisafi@noaa.gov.