Back to top
Marine Debris Program Participates in US/China Sister Cities Delegation
DECEMBER 15, 2017 — From November 28 - Dec 7, Marine Debris Program Regional Coordinator Sherry Lippiatt traveled with a State Department-led delegation to Beijing, Xiamen, and Weihai, China is part of a US/China Sister Cities partnership on marine litter.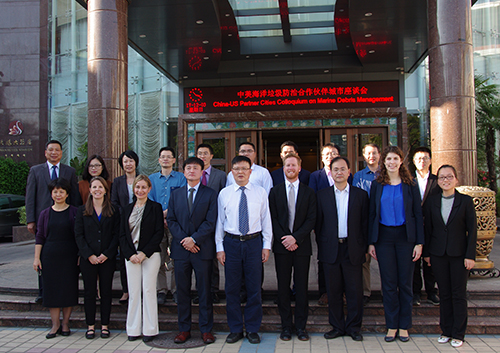 The Sister Cities partnership was initiated at the US/China Strategic and Economic Dialog in 2015, which was followed by the selection of participating cities in the US (San Francisco and New York City) and China (Xiamen and Weihai). In November 2016 a delegation from China traveled to the US for the first study tour.
The five person US delegation was hosted by China's State Oceanic Administration and the municipal Oceans and Fisheries Bureaus. Participants visited various restoration sites and waste management facilities in the cities and met with local officials, academics, and NGOs to discuss efforts to address marine debris. Xiamen and Weihai are putting in a lot of effort to capture and clean litter before it becomes marine debris, and implement new waste classification systems to reduce reliance on landfill and incineration. The delegation will follow-up with a best practices document to be shared among the US, China, and the larger East Asia region. 
For additional information, please contact: Sherry.Lippiatt@noaa.gov.