Back to top
More than 450,000 Gallons of Oil Recovered from WWII Shipwreck
JULY 19, 2019 — Oil recovery operations on a World War II-era shipwreck near Long Island, New York are now nearing completion after resulting in the removal of more than 450,000 gallons of oil over a period of nearly three months.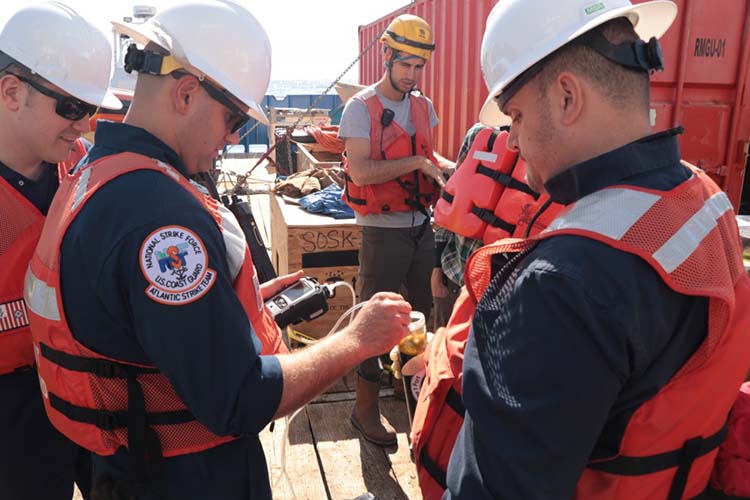 A substantial amount of oil was discovered during an underwater assessment of the Coimbra in May 2019. The Coast Guard decided removal would be needed and scheduled operations to begin later that month. 
The Coimbra, a British tanker, was torpedoed and sunk during World War II by a German U-Boat in the Battle of the Atlantic on Jan. 15, 1942. The vessel is one of 87 wrecks prioritized for oil pollution risk in a 2010 NOAA study — a continuation of the Remediation of Underwater Legacy Environmental Threats (RULET) project, a joint effort with the Coast Guard to address threats from vessels sunk off U.S. shores that contain significant volumes of oil. These shipwrecks are routinely monitored, and the NOAA Satellite and Information Service Satellite Analysis Branch, has observed oil slicks over the years that showed the wreck was still actively leaking.
A unified command was set up to support the removal operations, which began on May 11, 2019. More than 100 government, industry, and environmental specialists are supporting the U.S. Coast Guard and New York State Department of Environmental Conservation, including NOAA's Office of Response and Restoration and other NOAA offices. 
OR&R coordinated and participated in the collection of sheen samples over the last two years, including analysis of samples to help characterize the oil as bunker oil and lube oil. OR&R has also been providing oceanographic products, including potential trajectory analyses, in case any release occurred during the survey and removal process. OR&R also worked with NOAA's Office of National Marine Sanctuaries to synthesize the available historical information on the wreck.
The Coimbra went down carrying approximately 2.7 millions gallons of lubricating oil, much of which was probably lost during initial sinking.  The amount of oil left was enough to pose a risk to natural resources, prompting the recent underwater intervention. Now, with as much as 99% of the remaining recoverable oil removed, the operations have prevented any major leak from occurring at this site. According to the latest Coast Guard press release, the wreck was largely left undisturbed and remains in place 30 miles offshore of Shinnecock, New York, serving as a natural reef for marine life. 
"The amount remaining in the vessel is very small and any sheening poses minimal risk to the local environment and no risk to the shoreline," said Steve Lehmann, OR&R senior scientific support coordinator, in the release. 
For more information and to stay up to date on the Coimbra RULET project, visit the Incident News link here. 
more images