Back to top
NOAA Provides Trajectory for Diesel Fuel Release from Grounded Vessel Near Santa Cruz
AUG. 15, 2018 — NOAA's Office of Response and Restoration is providing trajectory assistance to the U.S. Coast Guard for an estimated 200 gallons of diesel fuel that were released from a grounded vessel near Santa Cruz, California on Sunday evening.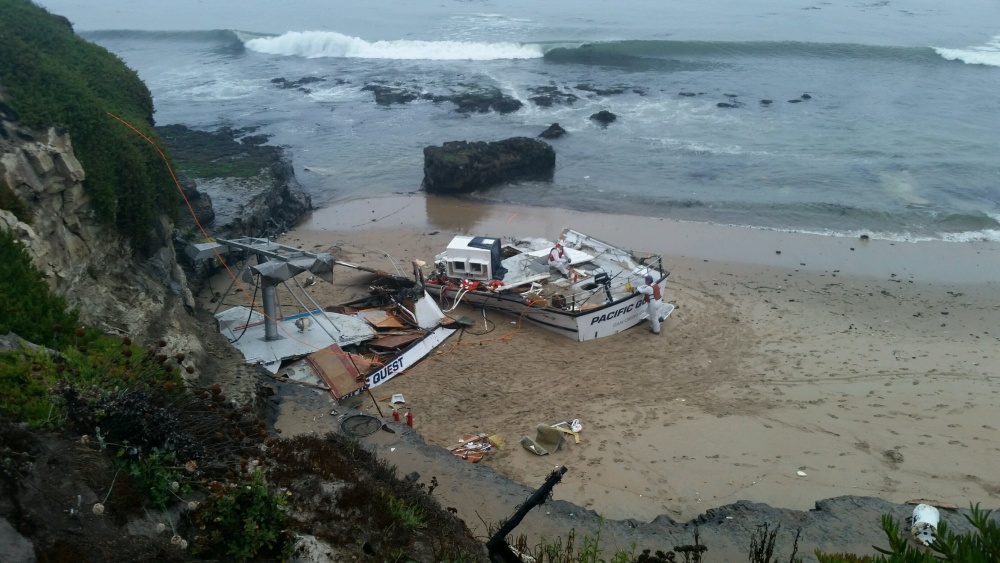 The Monterey Bay National Marine Sanctuary notified NOAA that a fishing vessel had grounded at the base of a bluff near the sanctuary earlier that day. Attempts to pull the vessel off the bluff were unsuccessful. It was determined that salvage operations would be unsafe.
The 56-foot commercial fishing vessel had a maximum potential capacity of 1,200 gallons of diesel aboard at the time of the spill. The Pacific Quest began discharging diesel fuel after the vessel started to break apart on the rocks — rupturing a fuel line.
The fuel vents were secured during low tide to prevent further discharge. No oil sheen has been observed at this point. As of Monday, Aug. 13 the vessel remained aground and responders were working to remove fuel from tanks on the beach during low tide.
"The Coast Guard and other federal, state and local agencies have established a unified command to ensure a safe and rapid response to the Pacific Quest grounding," said Coast Guard Ensign Kelly Hodges in a press release, the federal on-scene coordinator representative for the unified command. "We are working diligently with our partners to minimize impacts to the public and the environment."
For more information, see the Coast Guard's most recent update. You can also check out a video of the grounded vessel here.