Back to top
NOAA Unmanned Marine Systems Symposium
NOVEMBER 2, 2018 — The NOAA Unmanned Marine Systems (UMS) Symposium was held at the Stennis Space Center in Stennis, Mississippi, the week of October 29.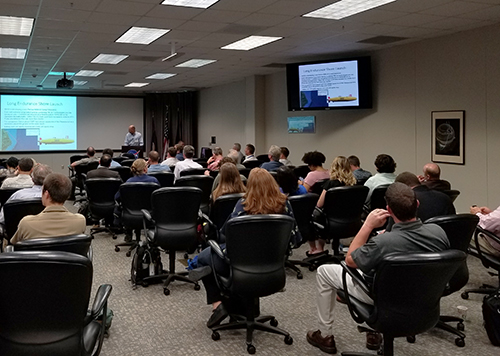 This symposium was intended to provide an opportunity for NOAA labs and program offices to share information on UMS field activities as well as platform and sensors that are currently being used to collect, manage and disseminate data and products to the NOAA community.  OR&R has been exploring the use of UMS technologies to support shallow subsurface oil extent and characterization for response and damage assessment. OR&R is interested in collaborating with NOAA programs such as the Office of Coast Survey (OCS) and others to leverage in-house expertise and existing resource assets such as gliders, autonomous underwater vehicles and autonomous surface vehicles. These technologies can be used to better understand impacts in hard to reach areas such as rocky shorelines or offshore oil spills as well as provide noninvasive habitat mapping and documenting species in the areas of interest. These efforts will supplement support to both the Unified Command in an emergency response as well as any potential Natural Resource Damage Assessment (NRDA) efforts that are or will be pursued by OR&R. 
For additional information, please contact George.Graettinger@noaa.gov.