Back to top
Non-Floating Oil Spill Meeting in California
NOVEMBER 17, 2017 — This week, California's Office of Spill Prevention & Response (OSPR) hosted a multi-agency informational meeting for their Technical Advisory Committee on Non-Floating Oil (NFO) spill planning and response.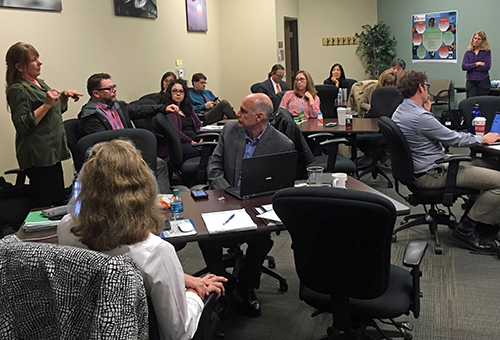 Established under the state's Lempert-Keene-Seastrand Act, the TAC is tasked with providing independent recommendations to OSPR leadership and several sister California agencies on any provision of the Act, including the promulgation of all rules, regulations, guidelines, and policies.  This week's workshop provided a forum to better understand and discuss NFOs with various subject matter experts touching on the state of the science, policy and operational capabilities as well as identifying possible gaps in planning for and responding to spills of NFOs.
 In an effort to prompt thoughtful discussion, the workshop was framed around ERD's five response questions:
What might be spilled? – Which NFOs are being shipped within California, where, in what volumes, and by what method (ship/barge, pipeline, rail)?
Where will it go? – What affects oil fate & transport of different NFOs?  Can they be reliably detected?  Can transport be estimated (trajectory modeling)?
What might get hit? – What sensitive resources might be in the path of spilled NFO?
How will it hurt? – What affects might be expected from NFOs on sensitive resources?
What can be done about it? – What tools are available to contain and recover NFOs effectively and minimize additional response-related impacts?
Attendees included appointed Technical Advisory Committee members as well as representatives from the California Energy Commission, USCG, NOAA, and the response contractor community.  
Additional information on the meeting (agenda, handouts, etc.) is available here, or contact Jordan.Stout@noaa.gov.