Back to top
Preparing Emergency Responders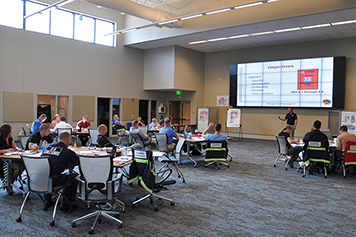 Since opening in 2012, the NOAA Disaster Response Center (DRC) has been striving to become a central hub for coordination and training of emergency responders throughout the Gulf of Mexico. Although the DRC plays a role in all phases of emergency management, preparedness is a primary focus. The DRC has several core business functions:
Serving as a Gulf Coast hub for NOAA emergency preparedness, response, and recovery operations.
Improving communications between the five Gulf Coast states and local and federal response agencies.
Enhancing decision support tools, exercises, and trainings for NOAA personnel and key partners.
Training and simulations help prepare responders to manage real-life incidents effectively. The DRC works closely with local, state, and federal partners to prepare for all-hazard events. A few examples of the trainings hosted at the DRC emphasize this focus on preparedness activities:
The Federal Emergency Management Agency's (FEMA) Training for Volunteers.
HURRIPLAN for Hurricane Resilient Community Planning and Building Design.
HAZWOPER (Hazardous Waste Operations and Emergency Response).
ICS 300: Intermediate Incident Command System (ICS) for Expanding Incidents.
Questions: Contact us with your questions, comments, or to book an event at the DRC.