Back to top
Tweetchat: 25 Years Since Exxon Valdez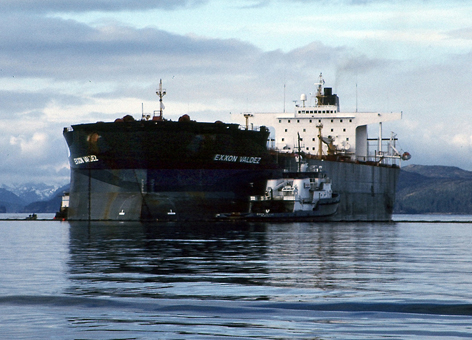 On March 24, 1989, the tanker Exxon Valdez grounded on Bligh Reef in Alaska's Prince William Sound, spilling nearly 11 million gallons of crude oil into a remote, scenic, and vibrant body of water. Prior to the 2010 Deepwater Horizon oil spill, it was the largest single oil spill in U.S. coastal waters. NOAA's Office of Response and Restoration was among the many organizations that provided operational and scientific support during the assessment, response, and cleanup phases. Join us as we remember this monumental oil spill 25 years later and use Twitter to ask questions directly to NOAA marine biologist Gary Shigenaka. Get answers to questions such as:
What wildlife, birds, fish, and habitats were—and in some cases continue to be—affected by oil spilled 25 years ago?

How has NOAA been monitoring the recovery of these animals and habitat in the years since?

How do we know when a species has "recovered" from the effects of an oil spill and how is this complicated by factors such as climate change?
Tweetchat Details:
This Tweetchat occured on March 24, 2014. An archive of the Tweetchat is available online.
About NOAA's Gary Shigenaka
Gary Shigenaka is one of the original biological support specialists in the Emergency Response Division of NOAA's Office of Response and Restoration. Even though his career with NOAA has spanned decades, Gary's spill response experience began with the Exxon Valdez. He has worked countless spills since then, in the U.S. and internationally. He also currently oversees a number of response-related research efforts and represents the U.S. Department of Commerce on the Region 10 Regional Response Team. You can also listen to Gary Shigenaka discuss the Exxon Valdez oil spill in a NOAA's Ocean Service audio podcast from March 2014, and read his report, Twenty-Five Years After the Exxon Valdez Oil Spill, which describes the accident, the multi-agency response, and the catastrophic toll that this spill had on the Alaskan environment.
About Oil Spills and NOAA
Every year NOAA's Office of Response and Restoration (OR&R) responds to more than a hundred oil and chemical spills in U.S. waters. OR&R is a center of expertise in preparing for, evaluating, and responding to threats to coastal environments, including oil and chemical spills, releases from hazardous waste sites, and marine debris. This also includes:
Determining damage to coastal lands and waters after oil spills and other releases.

Protecting and restoring marine and coastal areas, including coral reefs.
Learn more about how NOAA responds to oil spills.