Back to top
OR&R Emergency Response Chief and Oceanographer Collaborate with NOAA and Interagency Partners
MARCH 22, 2019 — On March 7 and 8, Dr. Chris Barker, an oceanographer with OR&R who develops and operates our oil and chemical spill models, joined Emergency Response Division Chief Scott Lundgren in visits with several NOAA and interagency partners to ensure familiarity with our products and services including model development plans and to discuss partner initiatives and interests.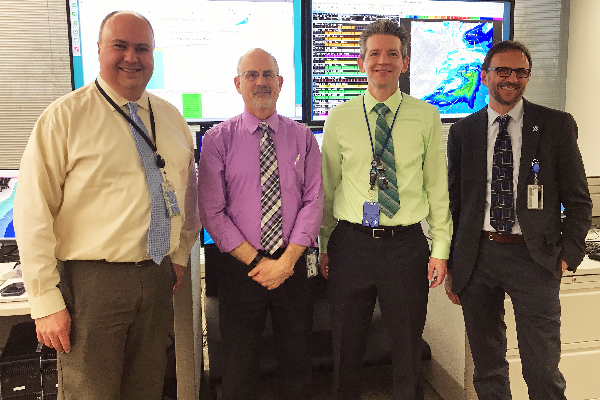 OR&R representatives visited with the National Weather Service Ocean Prediction Center at the NOAA Center for Weather and Climate Prediction in College Park, Maryland. OR&R reviewed some of the recent ocean gridded products that will prove useful in our work particularly in oceanic events, and discussed the ways each office serves the maritime community in preventing and in responding to incidents.
Representatives from the NOS coastal modeling portfolio (Integrated Ocean Observing System, Center for Operational Oceanographic Products and Services, and Office of Coast Survey's Coast Survey Development Lab) met with OR&R on their collaborative work on hydrodynamic coastal models, sharing information on relevant projects and initiatives of interest and listening to OR&R's input on spill modeling community functional and geographic needs from the operational hydrodynamic models that are critical inputs to our oil and chemical transport and fate modeling using the OR&R's GNOME Suite.
During meetings with the Bureau of Safety and Environmental Enforcement and the Bureau of Ocean Energy Management, OR&R representatives discussed enhancements to our trajectory and fate tools, and ongoing collaborations to add advanced visualization and online and computer accessible community oil library.
OR&R also met with the Satellite Analysis Branch of the National Environmental Satellite Data and Information Service about their Marine Pollution Surveillance Reports and how these are used for responses, the new Common Operating Picture connection to ERMA© (Environmental Response Management Application) to the reports and opportunities to further enhance workflows between detection and modeling and forecast future image acquisition and suitability during protracted spills.
For further information, contact Scott.Lundgren@noaa.gov.
more images