Back to top
OR&R Hosts 2018 Fall Texas Trustee Summit
OCTOBER 19, 2018 — From October 16-18, state and federal Natural Resource Trustees came to together for the biannual Texas Trustee Summit in Galveston, Texas, hosted by the NOAA Damage Assessment, Remediation, and Restoration Program (DARRP).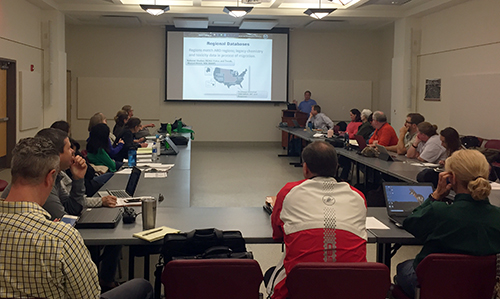 The first day consisted of a Natural Resource Damage Assessment (NRDA) response training session that included the Texas Park and Wildlife Division providing a review and practice of Shoreline Clean-up Assessment Technique (SCAT) at Galveston Island State Park; an overview of funding options by the U.S. Coast Guard (USCG) National Pollution Fund Center; and training on OR&R data management tools by Jay Cody of OR&R. 
The biannual summit provides an opportunity for training and information exchange among the Texas trustees as well as a time to discuss efforts on the numerous Texas cases. Other summit participants included representatives from the U.S. Department of Justice, the U.S. Environmental Protection Agency (EPA), and the Texas Attorney General's Office. 
For additional information, contact Liza.Hernandez@noaa.gov or Kevin.Kirsch@noaa.gov.